---
Prerequisites:
Your account must have access to items (Inventory > Items), which is a key feature of our classic version of

Checkfront.
A Staff user account, as a Partner account login is not supported.
Important: Only the QR Code Scanner feature of the app, used to check-in Guests via QR Barcodes on invoices, is supported with products (Inventory > Products) at this time.
New to Checkfront - Products ✨

Products (Inventory > Products) is the successor feature to (Inventory > Items) and is available in our newest version of Checkfront.

Not yet on our newest version and interested in upgrading? Please contact our Technical Support team for more information.

Discover more product-related help articles here: Products (New).
---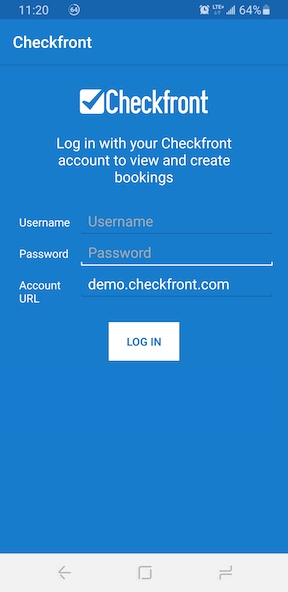 Once the iOS Mobile App has been downloaded to your device and launched from the home screen, the first thing you see is the login screen.
Enter your username (email address) and password, as you do for the desktop site, plus the Host URL for your Checkfront account. This is the URL you use to access your account online and looks similar to companyname.checkfront.com.
When logging in, be sure to enter the email address associated with your account within the Username field.

If you're experiencing difficulties logging in, then this may well be the issue!
You only need to do this one time. On your subsequent visits, you notice the login details have been saved in the section labelled Log In As... Tap on the login details to proceed. You still need to input your password in order to continue, but the rest of the information is entered automatically for you.
---
< iOS App: Downloading & Installing | iOS App: Navigating the App >
---