---
Once inside the iOS Mobile Booking app, you will be presented with the Home Screen. This is a summary of your bookings, organized into groups to enable quick access to the most relevant upcoming information.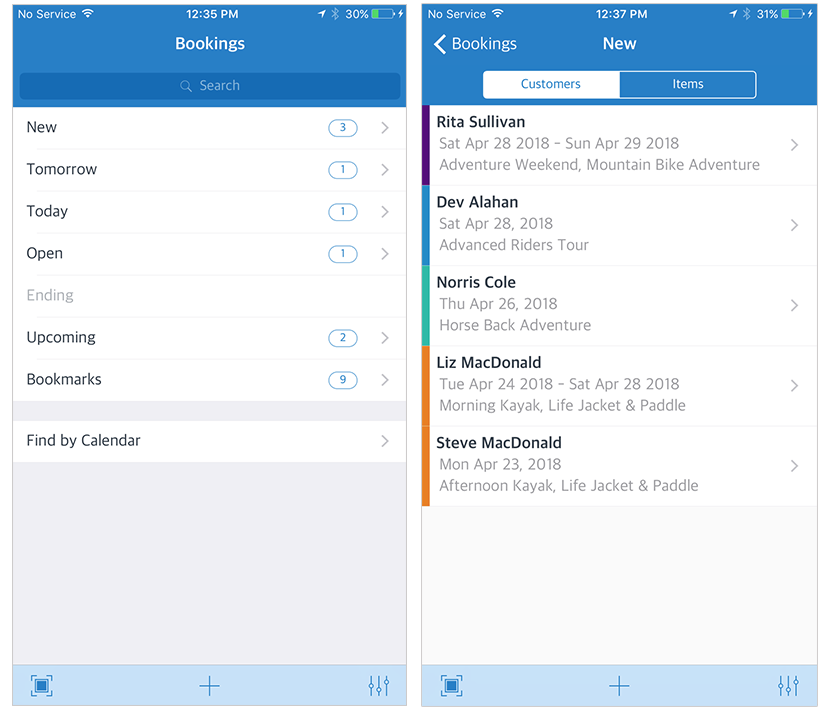 Tapping on one of these groups will open up a new screen containing a list of all the matching bookings. These bookings can then be viewed based on the customer who has made the booking, or the items that belong to the bookings. Make your choice by tapping on either the Customers or Items button at the top of the screen.  
New:
A list of all new bookings in your Checkfront account, since the last user login.  
Tomorrow:
Bookings that will begin the following day.  
Today:
Bookings that start on the current day.  
Open:
Currently active bookings. This includes bookings that start today, plus already ongoing bookings.
Ending:
Bookings that are ending on the current day.  
Upcoming:
Bookings that begin on the current day or the next 7 days.  
Bookmarks:
Bookings that you have bookmarked in your account for quick access.  
Find by Calendar:
Tap this option to access a monthly calendar. Any days that contain a booking will be circled. Tap on any of these to access a list of the bookings for that day.  
You can filter the calendar by hiding/showing bookings that are Starting, In Progress, or Ending. Tap on a status with blue text to remove those bookings from the calendar results (the text will turn grey). Tap it again to add the bookings back to the results (the text will turn blue again).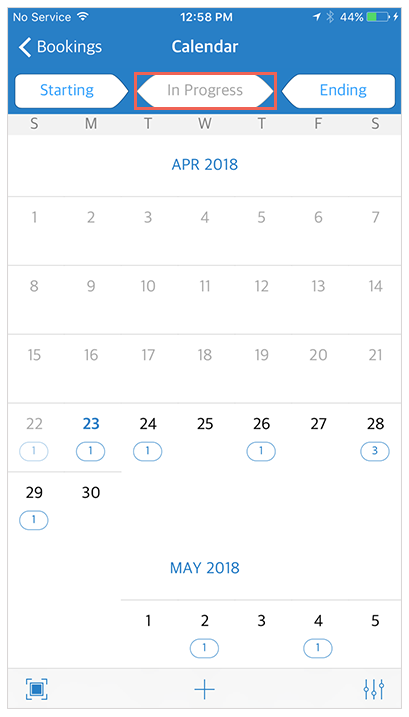 ---
< iOS App: Logging In     |     iOS App: Viewing a Booking & Checking In/Out >
---