---
Learn how to activate and edit Customer languages that display on the booking page.
New to language translations? Read the first article in this series for an introduction to Languages.
---
Which plan do you need to use this feature?
X Soho | ✓ Pro | ✓ Plus | ✓ Enterprise | ✓ Flex |


Where can I find this feature using the top menu?
Manage > Languages


What prerequisites are there?
A plan (Pro, Plus, Enterprise, and Flex) that includes Multi-Languages to utilize Customer Languages.
Admin permissions to access and manage Languages (Manage > Languages).


Which Checkfront version supports this feature - classic, new, or both?
The Languages feature is available to both those using items (Inventory > Items), a key feature of our classic version of Checkfront and those using products (Inventory > Products), a key feature of our newest version of Checkfront.
New to Checkfront - Products ✨

Products (Inventory > Products) is the successor feature to (Inventory > Items) and is available in our newest version of Checkfront.

Not yet on our newest version and interested in upgrading? Please contact our Technical Support team for more information.

Discover more product-related help articles here: Products (New).
---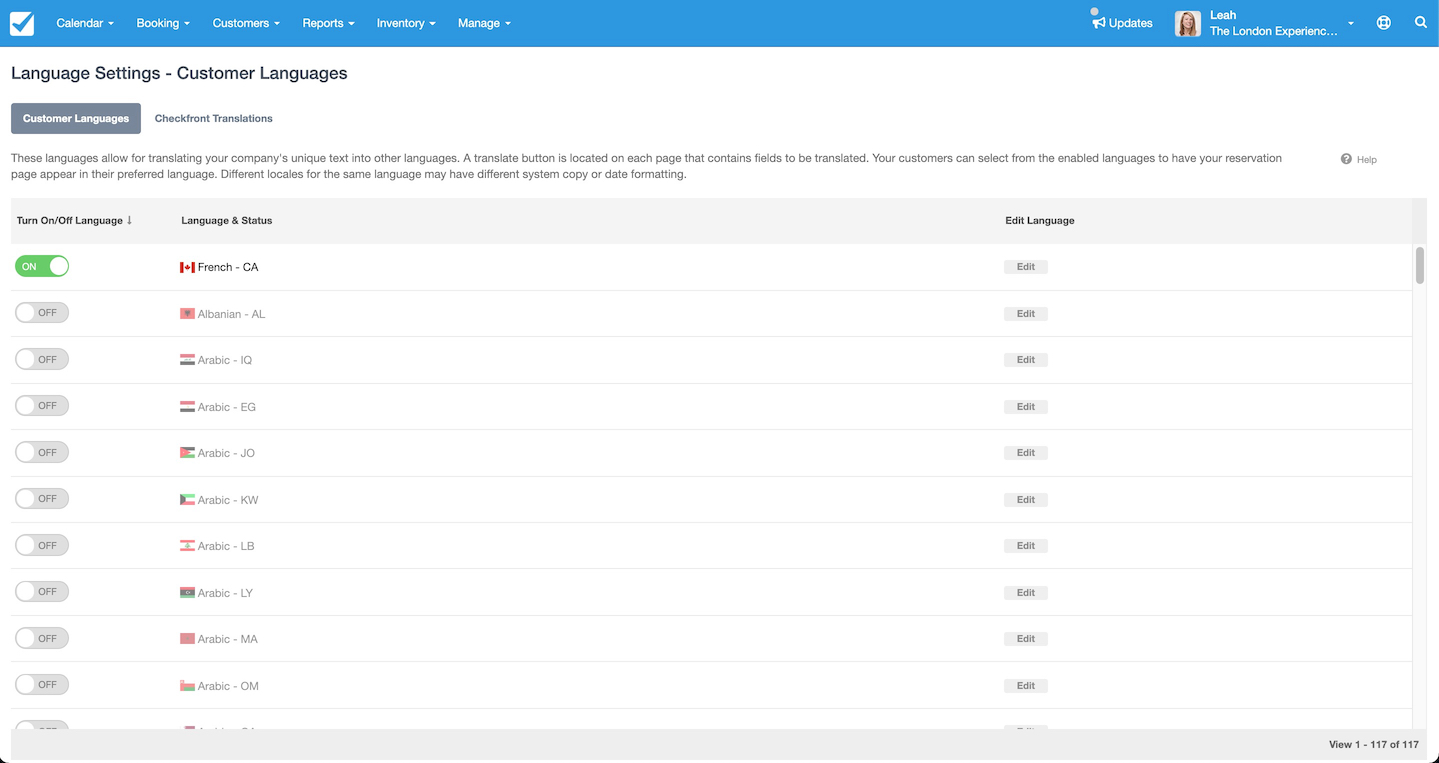 To activate a Customer language in your account, navigate to Customer Languages (Manage > Languages > Customer Languages) in your main menu.
Toggle a language on or off using the switch in the left column. An active language shows a green switch with the word ON displayed.
Next, we cover how to edit a language. Then, in the next article, we look at how the language option presents itself on the Booking Pages.
---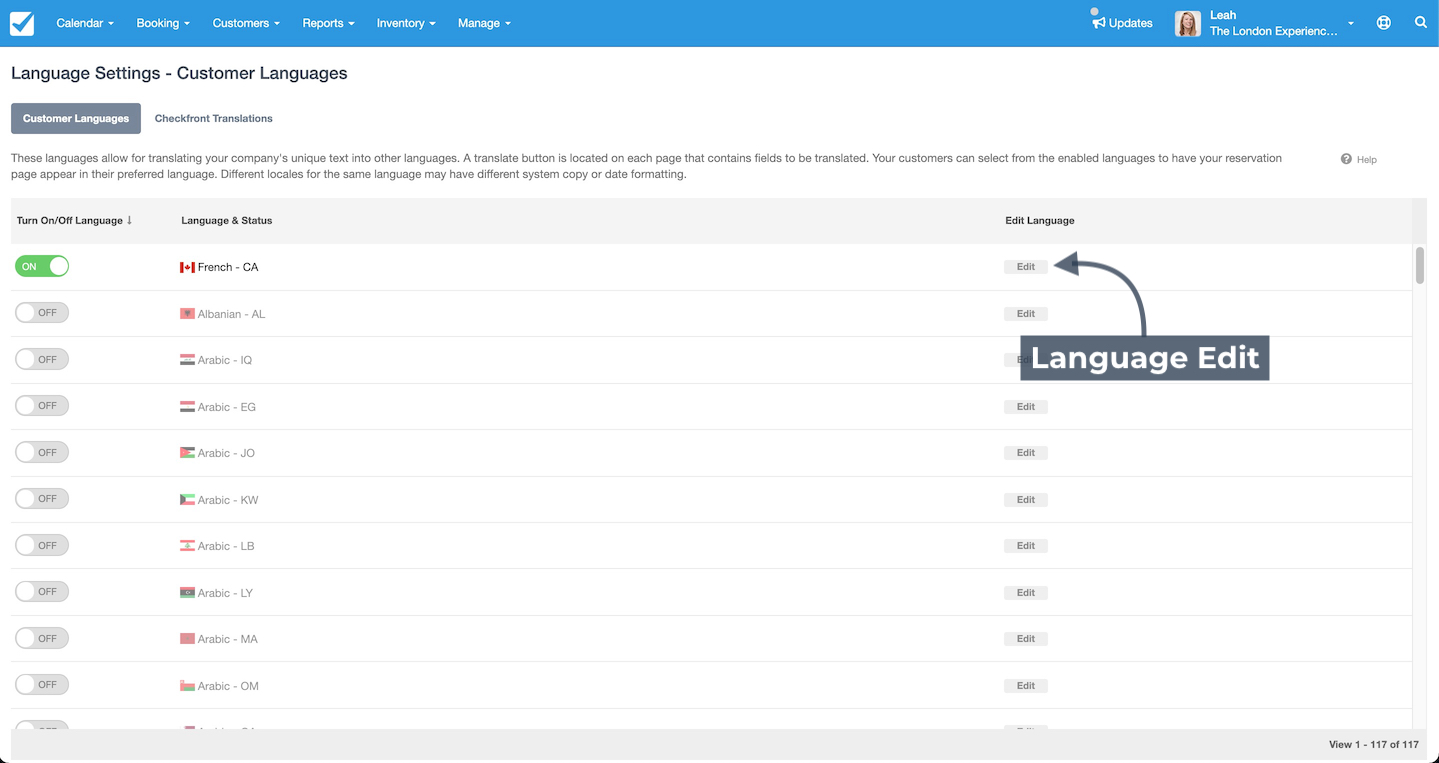 To provide custom translations for an enabled Customer Language (Manage > Languages > Customer Languages), simply click on the Edit button in the column to the right of the language name.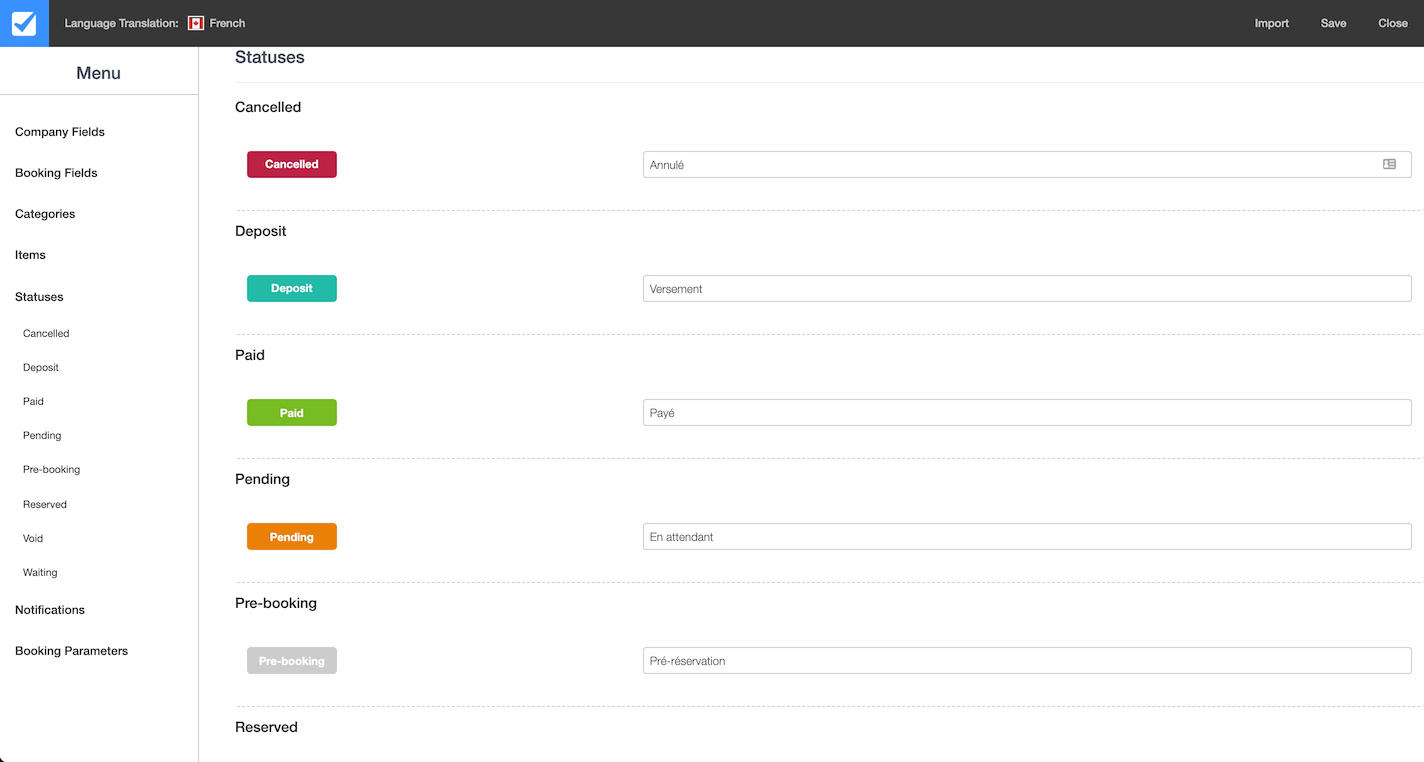 From here, you can edit your unique text - company fields, booking fields, categories, statuses, notifications, and booking parameters in bulk.
Enter the word, or string of words, into the field on the right for each term you wish to update. Once you've done that, click Save at the top to complete the update.
Now, when a Customer activates that language in their booking window, the updates you have just made are displayed to them.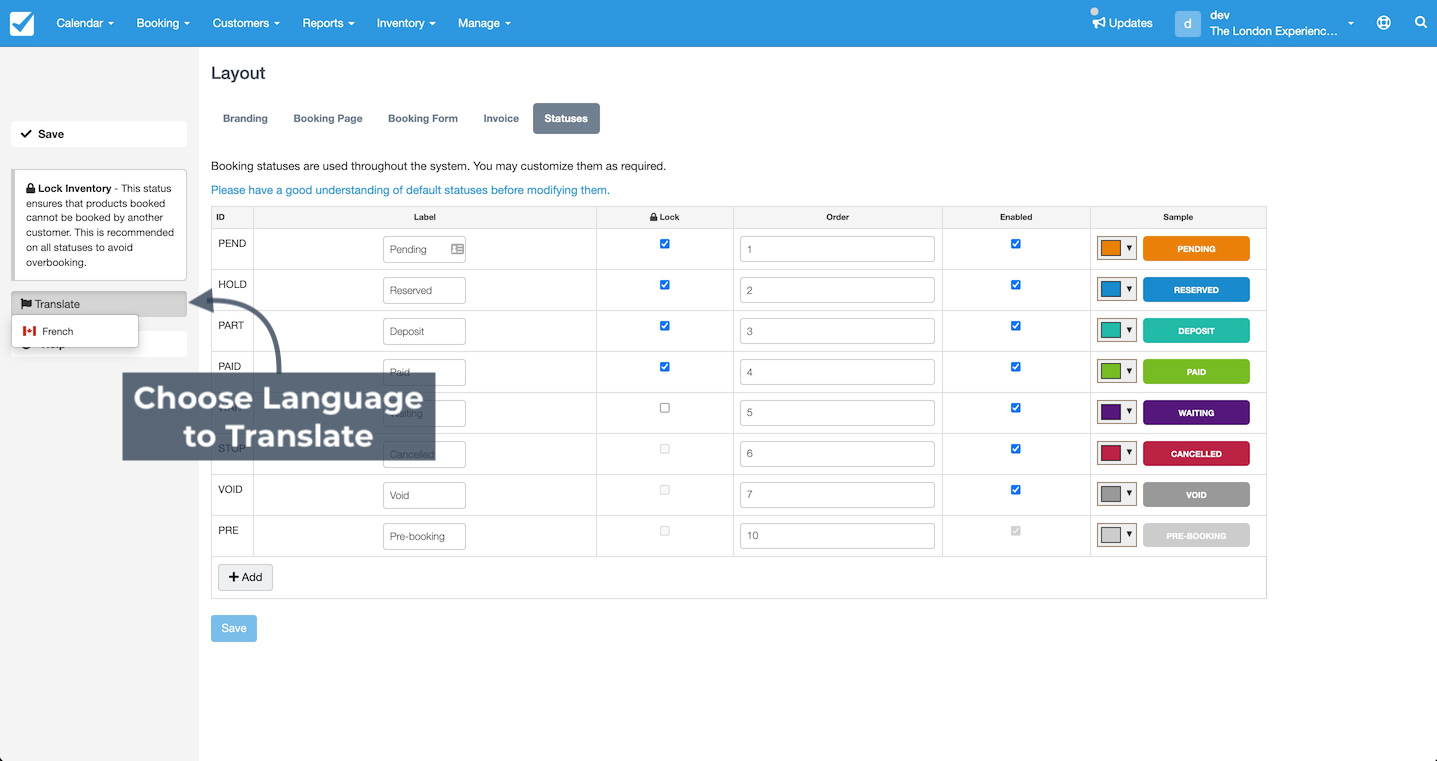 Alternatively, you can make the same changes inline, directly through the feature pages in your account.
For example, if you are editing your Booking Statuses (Manage > Layout > Statuses), then you can click on the Translate button in the left sidebar and select the language you wish to edit.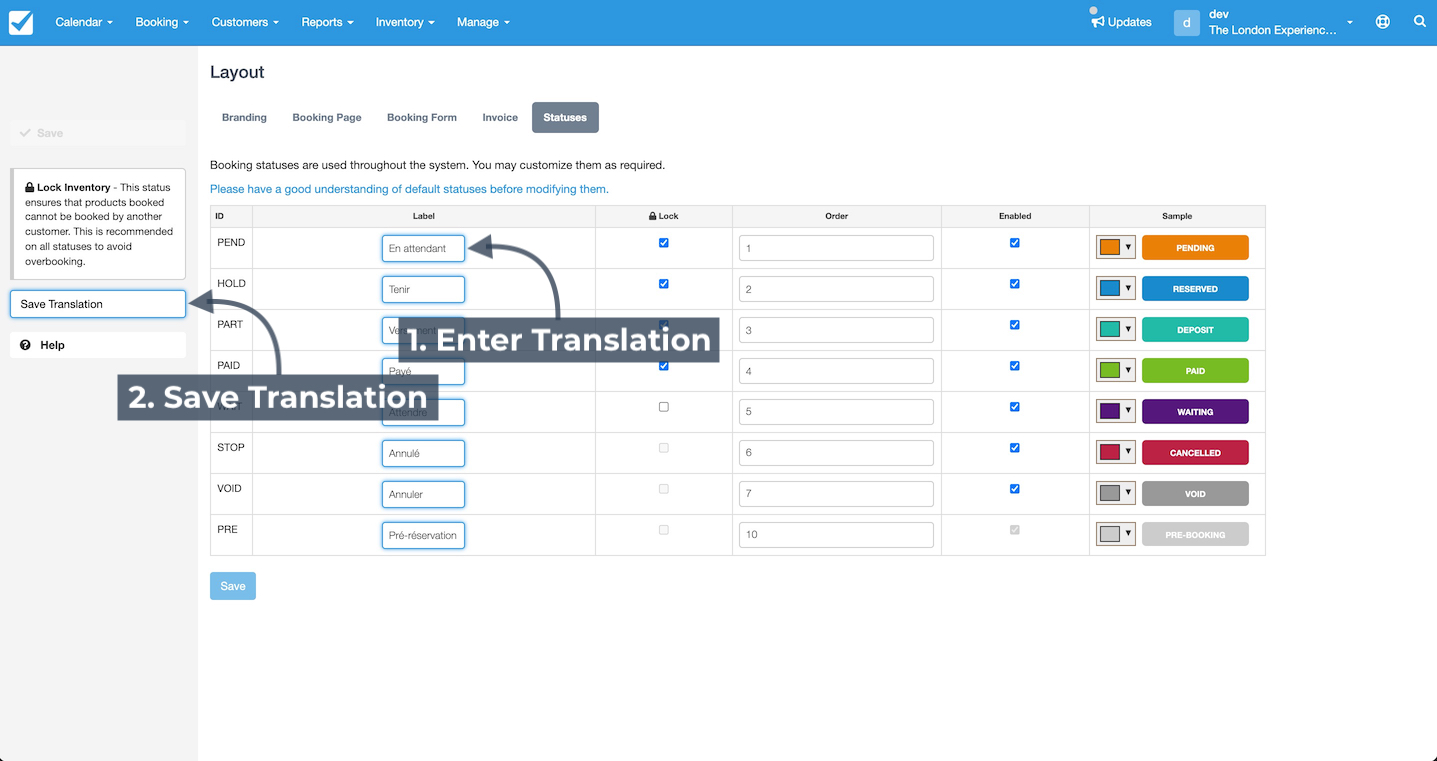 Once in edit mode, enter the translation into the fields provided (1) and click Save Translation (2) in the sidebar when you're finished.
You can find the Translate button on most pages in your account where editable language strings are available for translation.
Learn more about Booking Statuses here:

Learn more about the select areas where inline translation is supported here:

Inline translation is not yet supported within the Product Builder. Products can be translated via the bulk function mentioned above.
---
< Intro to Checkfront translations and Customer languages | Selecting Customer languages >
---