---
Plan Availability: X Soho | X Pro | ✓ Plus | ✓ Enterprise | ✓ Flex |
Locate: Booking > Daily Manifest
Prerequisites:
Admin permissions or restricted permissions to View all reports (or Daily Manifest) and a minimum of the View Documents permission to access and view attached Waivers and Documents.
Waivers & Documents (Manage > Integrations) activated within your account.
The Guest Form (Manage > Integrations > Guest Management) integration is required as the Documentation completion status is only visible for Guest records.
The Daily Manifest is available to those using items (Inventory > Items), a feature of our classic version of Checkfront.
Interested in using the Daily Manifest with products (Inventory > Products)? Your account must be a member of our

Early Access Program.
This article covers how to manage Waivers or other Documents via the Daily Manifest.
Be sure to read the first article in this series for an introduction to the Daily Manifest!


Not using Guest Forms?


Currently, the documentation completion status is only displayed for Guests, not for the Booker. If you need this information to be prominent, especially if you are not using Guest Forms, then please contact support@checkfront.com to have your name added to the feature request!
---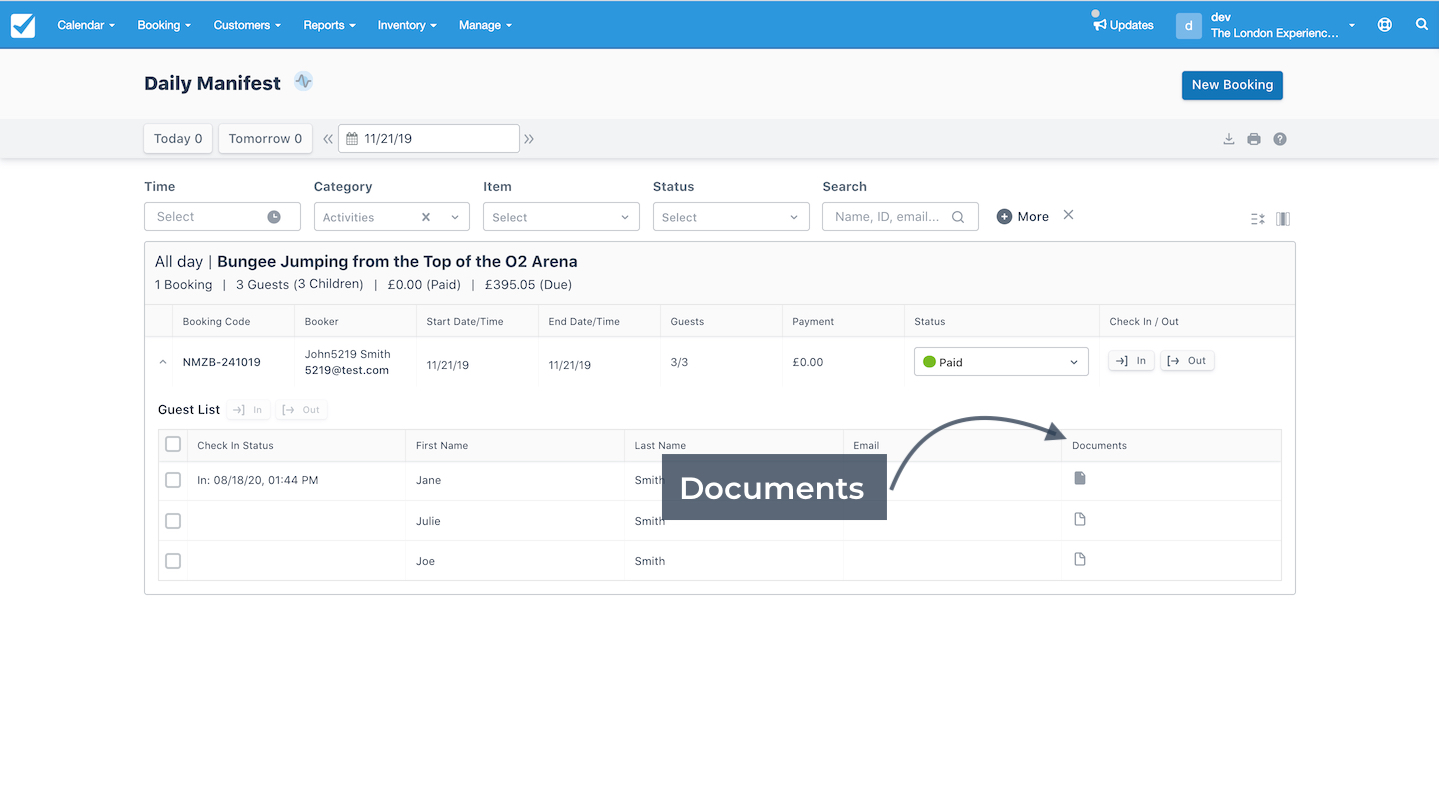 Once you have activated the Waivers & Documents integration (Manage > Integrations > Waivers & Documents), you can view the completion status of any attached documents for each Guest.
An icon displays within the Document column for each associated Waiver or other Document. A white icon indicates that the Document is not yet complete, while a dark icon indicates that the Document is complete. If you hover over the icon, then the name of the Document displays.
Staff can click on the status icon to view the Document in the Documents section of the associated invoice. From there you can Share, Fill Out the Document or Email it to other Participants.
| | |
| --- | --- |
| | Learn more about managing Documents associated with the invoice here: |
---
Complete Documents Via Public Document & Kiosk Directory
Back to top
If the Waiver or other Document is not complete, then you can also have the Guest fill it out via the Checkfront Waiver Kiosk view.


| | |
| --- | --- |
| | Learn More the Public Document and Kiosk Directories here: |
---
< Daily Manifest: Export | Daily Manifest: Assigning Assets>
---