---
Plan Availability: ✓ Soho | ✓ Pro | ✓ Plus | ✓ Enterprise | ✓ Flex |
Locate: Calendar > Booking
Prerequisites:
The Booking Calendar feature is available to both those using items (Inventory > Items), a key feature of our classic version of

Checkfront, and those using products (Inventory > Products), a key feature of our newest version

of

Checkfront.
New to Checkfront - Products ✨

Products (Inventory > Products) is the successor feature to (Inventory > Items) and is available in our newest version of Checkfront.

Not yet on our newest version and interested in upgrading? Please contact our Technical Support team for more information.

Discover more product-related help articles here: Products (New).
To learn more about the various features of the Booking Calendar, be sure to check out the full series of articles which can be accessed at the side and bottom of this page.
---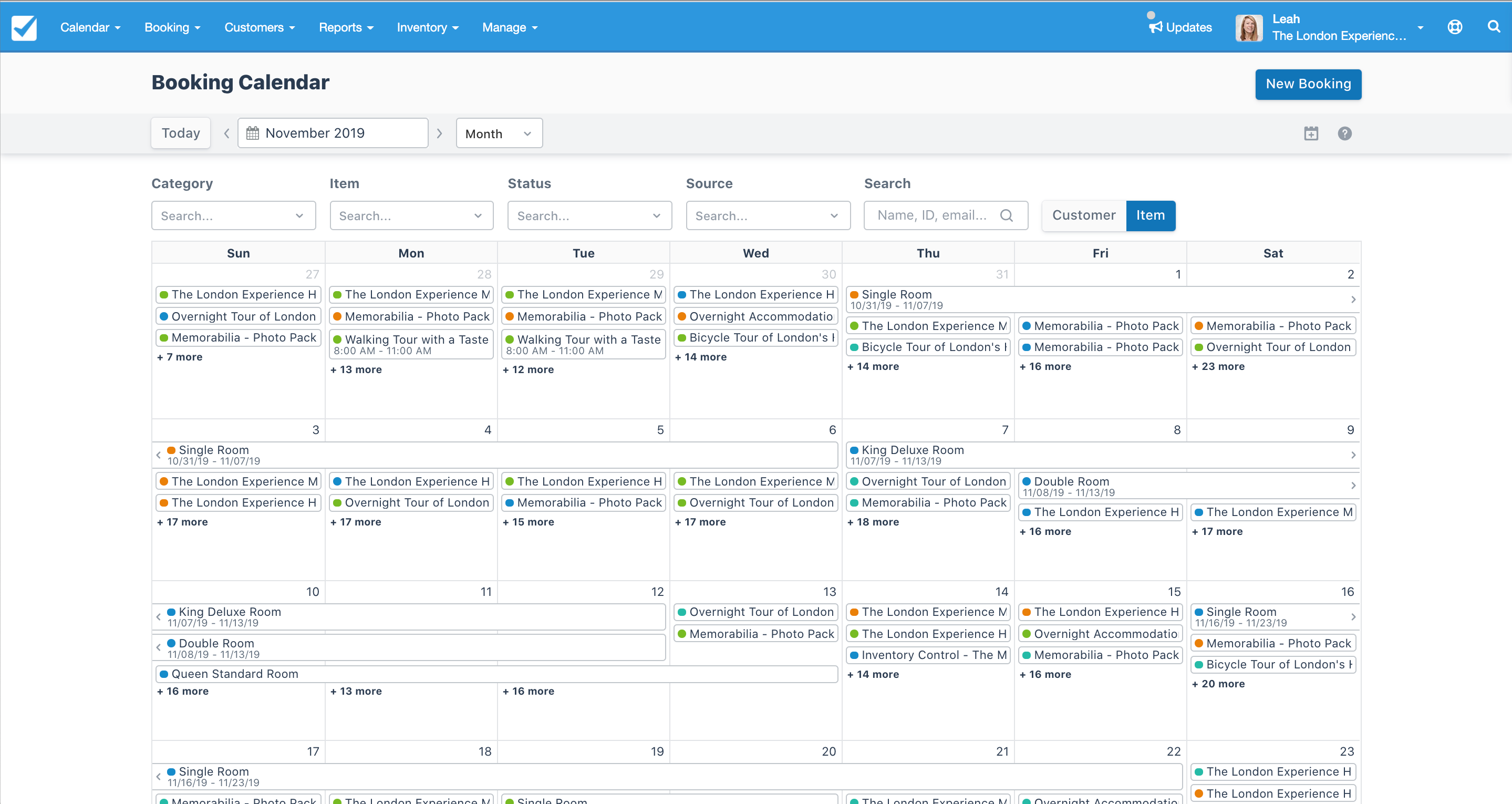 | | |
| --- | --- |
| | For more detailed instructions, please see our series of articles on the Booking Calendar: |
Features
New Calendar Experience

The Details
Navigation
Consolidated features and menu options

Month, week, and day views are consolidated into one Booking Calendar accessible through the Booking option within the Calendar menu.

The Month, Week, and Day views are available within the action bar along with our other filters.
Bookmark filter selections

All filter views (Month, Week, and Day) made from within the page are saved to the URL for easy bookmarking.
Calendar Display, Filters, and Default Views

All inventory bookings visualized


All bookings are displayed based on the inventory booked within, not simply based on one of the items or products in the booking.

New filter options

The following can be used to narrow Booking Calendar results:

Category
Item, or product
Status
Source
Search

New List view

The List view optimizes the information you can see. Perfect for those busy days when quick and easy access is key.

Bookings are stacked within each day ascending by all day and night bookings first, then earliest in the day by start time within the remaining space.

You can open the side panel for more details.

New current day and time indicator

Within the Week and Day view, there's a visual indicator to help identify the current day and time.

Customer vs Item/Product views

New options to view the Booking Calendar by the name of the item/ product booked or the name of the Customer who made the booking.

Add to External Calendar
Need to sync your Booking Calendar with iCal? The option to Add to External Calendar is found within the menu just under the New Booking button.
Side Panel
The side panel provides rich booking data.
New Booking Insights


Clicking on a booking from the main calendar opens a side panel with booking insights including...

Total number of Bookings
Total number of Guests including a breakdown by parameter.
Total amount Paid
Total amount Due

More Booking Details Upfront

The following booking details display within the panel, so you don't have to navigate away to the Booking Invoice.

Booking Code
Items or products booked
Booker (first name, last name with guest types and numbers)
Contact information

Booking Start and End Date & time
Payment made and balance Due
Source
Booking Status
Check In and Out buttons

This allows for quick updates like status changes and provides quick links to Customer contact information.

All other bookings for that day are also shown for quick access and searching.

New Search for Booking Details

Find a booking by Booker, source, booking code, or item/product within the day in focus.
---
Introduction to the Booking Calendar >
---