---
Read this introduction to our Booking Daily List feature, including how to view a booking summary, view by booking item/product, view by booking time, and add new bookings.


To learn more about the features of the Booking Daily List, please read the entire series of articles accessed at the side and bottom of this page.
---
Which plans include this feature?
Legacy:  Soho, Pro, Plus, Enterprise, Flex
New:  Starter, Growth (Subscription), Growth (Per Booking), Managed
→ Learn more about our new plans or how to change your plan.

Where can I find this feature using the top menu?
Booking > Daily List


What more do I need to use this feature?
Admin or restricted permissions to View all Reports (or Daily List) and Export Data.

Inventory configured and matching bookings!




Which Checkfront version supports this feature - classic, new or both?
This feature is available in both our classic version using items (Inventory > Items) and our newest version using products (Inventory > Products).  → Learn more about products
| | |
| --- | --- |
| | Learn more about your reporting options here: |
---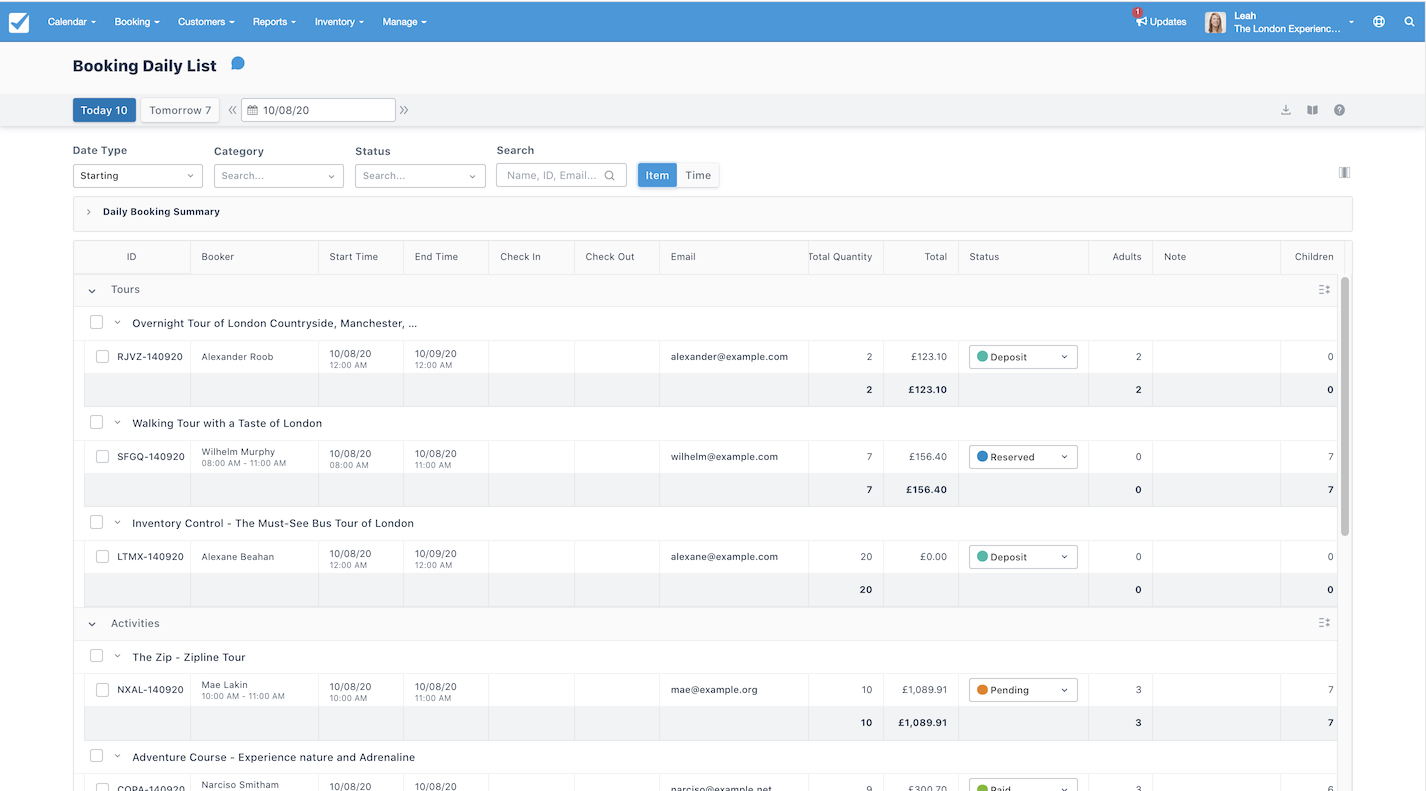 The Booking Daily List (Booking > Booking Daily List) provides several views into your daily bookings - the Daily Booking Summary and a list of the related bookings by category and then item/product or time.
Next, we take a look at these features in detail.
---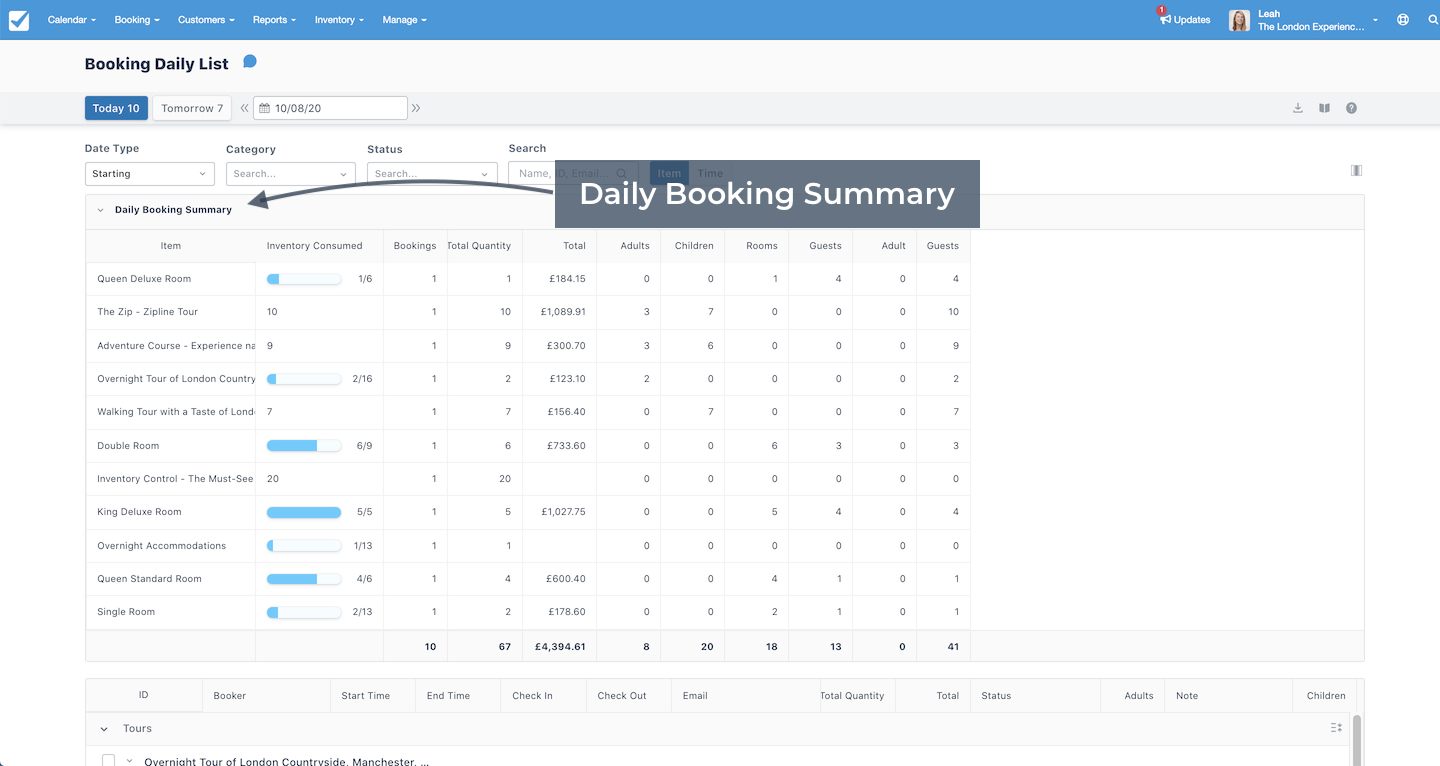 The Daily Booking Summary visualizes inventory consumed and daily booking totals by item/product as rolled-up grand totals for the day.
Remember that the data displayed in the Daily Booking Summary considers any filters applied, including crucial information entered in the search field.

Learn more about filters here:
Daily Booking Summary

Item/Product

The name of the item/product in focus. For example, "Overnight Tours of London..."

Inventory Consumed

A visual of the inventory consumed followed by the count of inventory booked versus available.

For example, 2 out of 16 "Overnight Tours of London..." booked.

Bookings

The number of bookings associated with the item/product in focus.

For example, one booking includes the "Overnight Tours of London..." item.

Total Quantity

The total quantity of inventory booked for the item/product.

For example, two "Overnight Tours of London..." items booked.

Total

The total value of the bookings in your account's base currency (Manage > Setup > Locale)

For example, £123.10.

Parameter/Guest Type Counts

Booking counts by associated item parameter (Inventory > Items > Edit Item > Attributes) or guest type for products (Inventory > Products > Edit Product > Availability).

Daily Totals

Rolled up statistics for the day in focus and all items/products listed.
---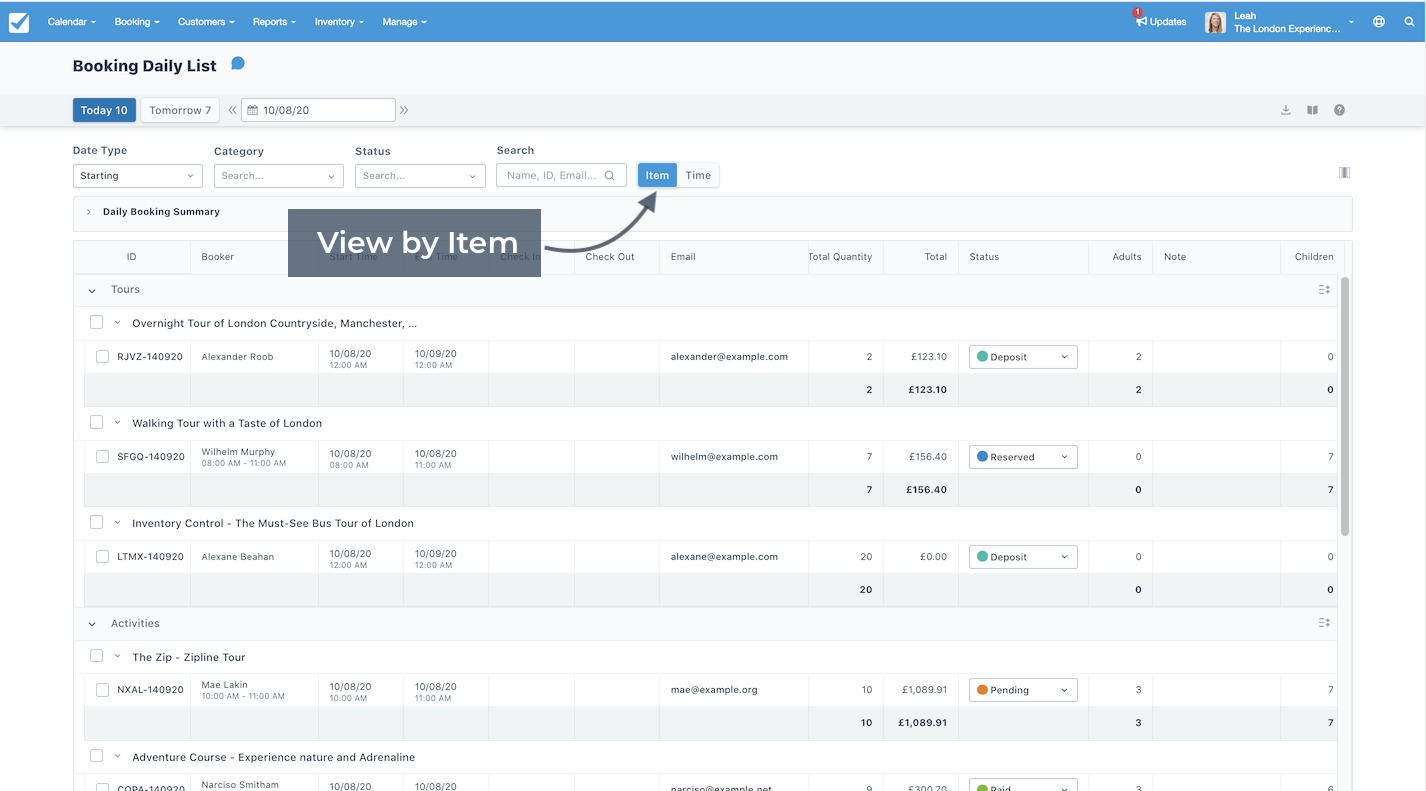 By default, listings are grouped by item/product. This makes it easy to see how many Guests you should expect for each item/product, whether tours, activities, accommodations, or rentals.
---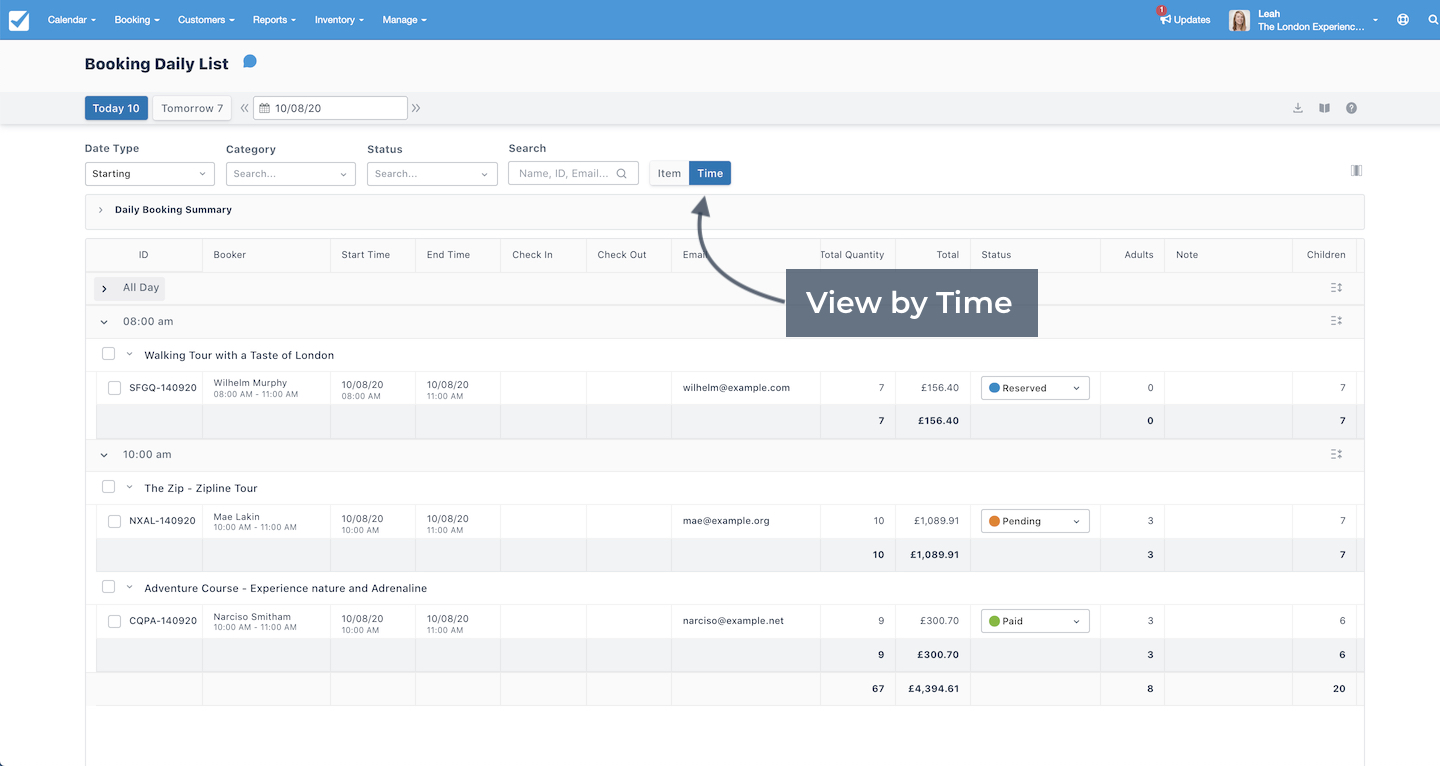 The time view groups your bookings with timeslots by start time, for example, 8:00 am, 10:00 am, etc. The time displayed is based on your time format (Manage > Setup > Locale) setting.
If a booking does not contain items/products with time slots, it is grouped under the sub-heading All Day at the top of the page.
---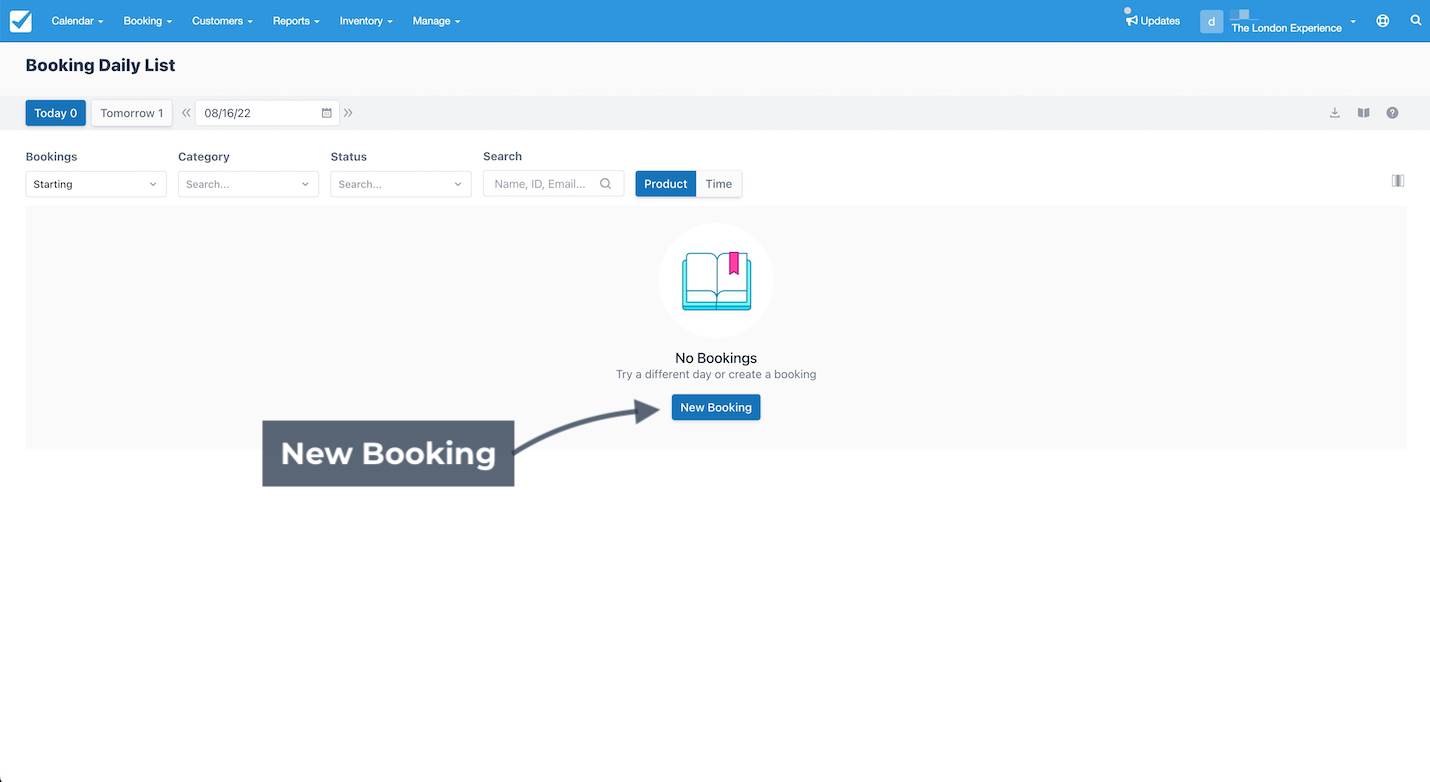 You can create a new Staff-side booking from the Booking Daily List area when no other bookings are visible for your viewing date. Click on the New Booking button to start the process.
| | |
| --- | --- |
| | Learn more about creating a Staff-side booking here: |
---
Navigating and filtering the booking daily list >
---