---
Plan Availability: ✓ Soho | ✓ Pro | ✓ Plus | ✓ Enterprise | ✓ Flex |
Locate: Calendar > Booking
Prerequisites:
Admin permissions or Staff permission to View calendars.
Booking, bookings, and more bookings!

Be sure to read our overview of the New Booking Calendar Experience, before starting!
To learn more about the various features of the Booking Calendar, be sure to check out the full series of articles which can be accessed at the side and bottom of this page.
---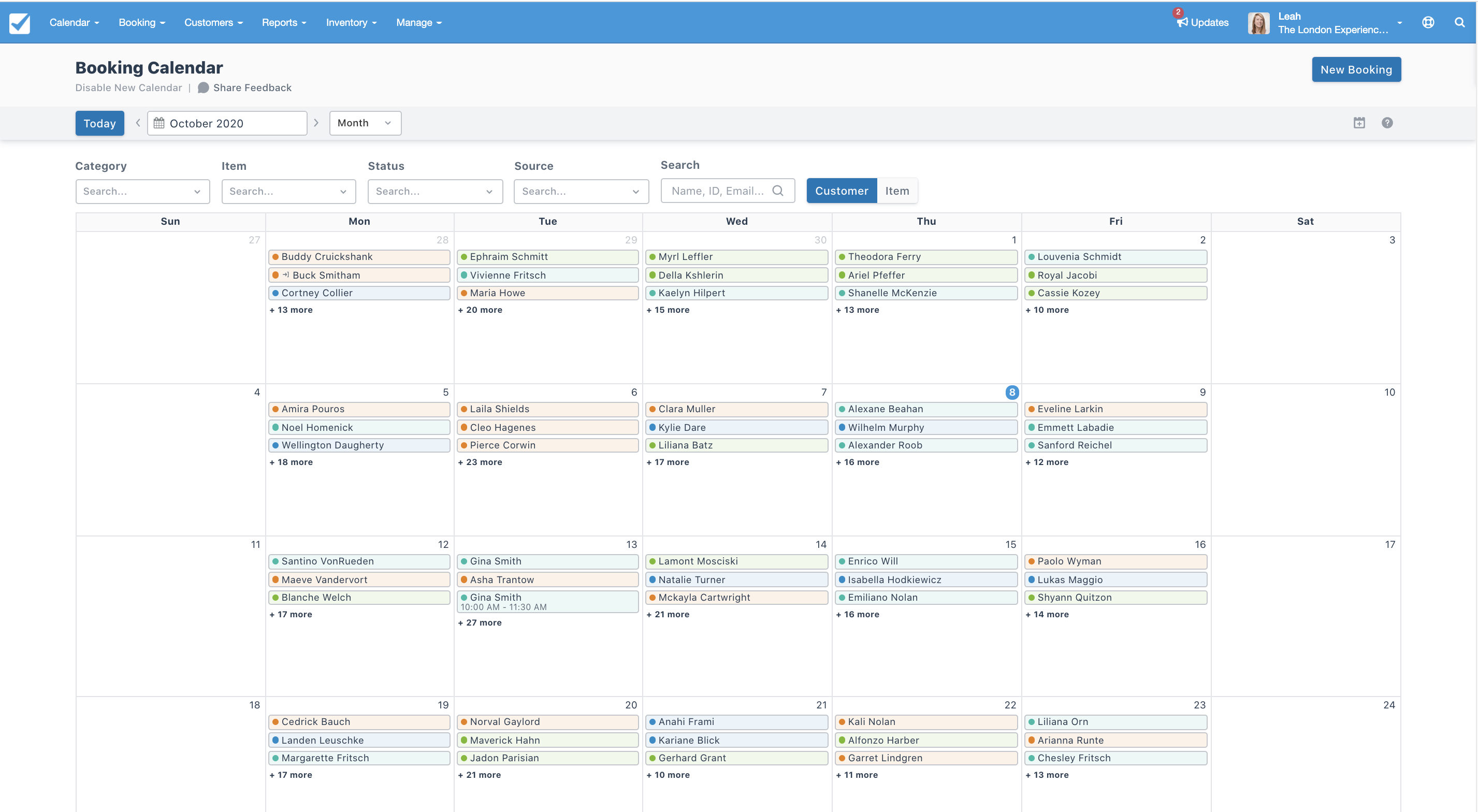 The Booking Calendar provides a traditional, calendar view of your bookings including your choice of Month, Week, or Day layouts. With several format and filter options to suit your needs, the Booking Calendar can be optimized to provide an excellent, visual overview of your bookings. You can then find and absorb information faster, which will expedite the task of managing your bookings!
In this series of articles, we will cover how to navigate and filter, view bookings by Customer vs Item, and switch from Calendar to List view.
Need to see more booking information? Simply click on the booking within the calendar to reveal booking insights in the new side-panel! Learn more here.
We will also cover how to Add your bookings to an External Calendar, via our Checkfront iCal Feed. Click here to learn more.
Follow the series sequentially or jump to an article using the in-article or side menu links. Let's start with your layout options.
Gift Certificate purchases only display within the Booking Calendar if on the same invoice as one or more date-based items. In that case, a record for the Gift Certificate displays separately on the purchase date as an all day booking and within the Bookings tab of the side-panel. This provides you with full transparency into all items on the invoice.

If the Gift Certificate was purchase independently, then it will not appear on the Booking Calendar.
---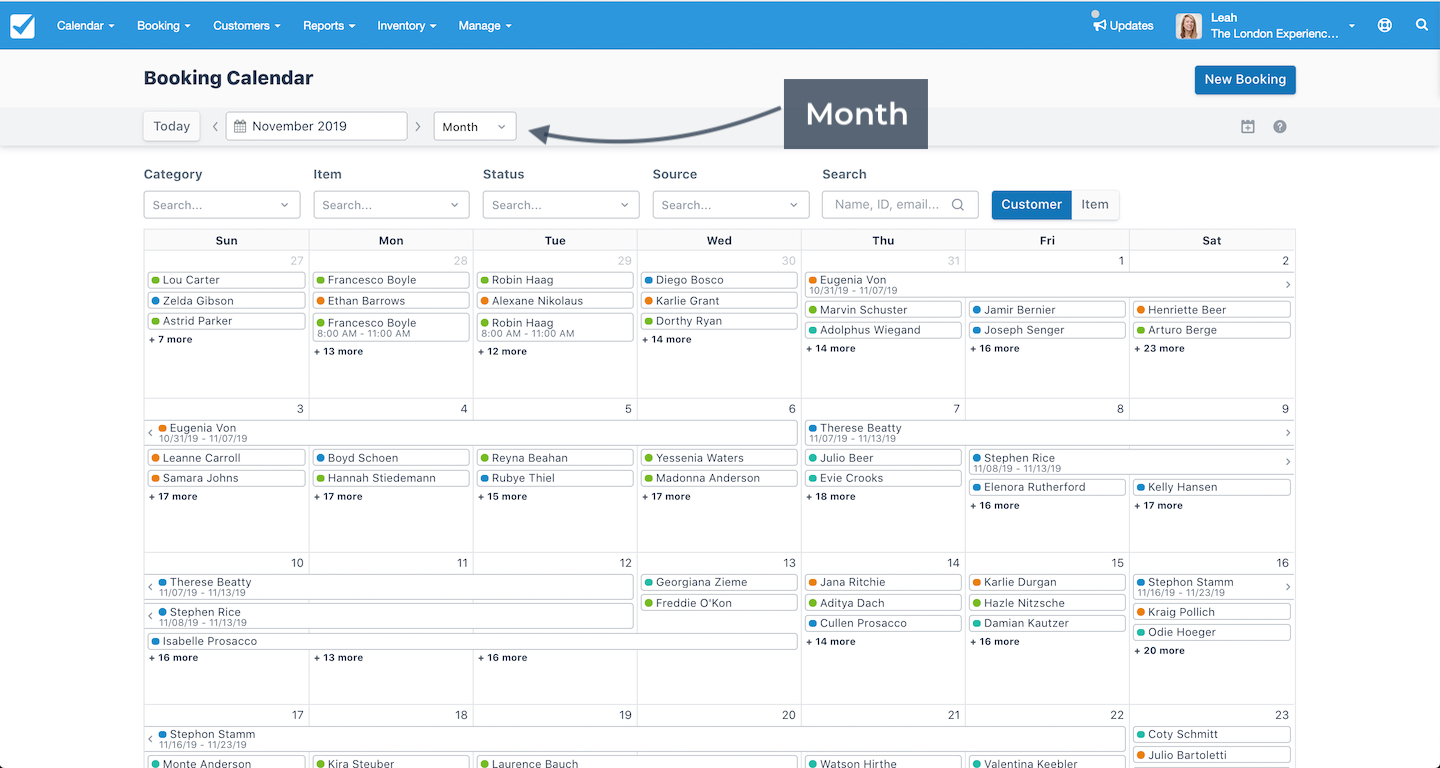 By default, the Booking Calendar uses the Month layout. This allows you to see an overview of bookings for the calendar Month.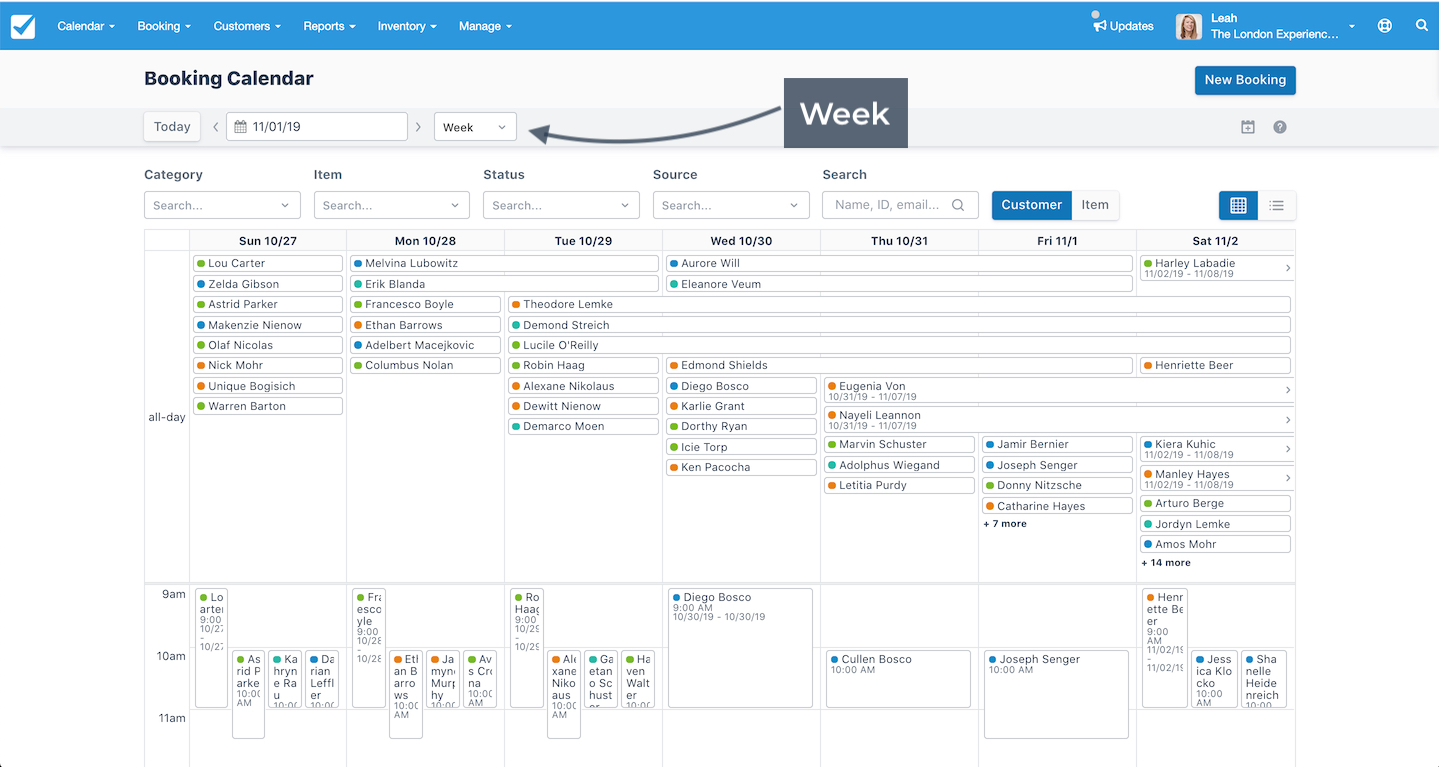 View bookings by the Week. All-day listings are displayed first, followed by an hourly look into what the week entails organized by day.
| | |
| --- | --- |
| | Learn more about toggling between the Calendar and List formats here: |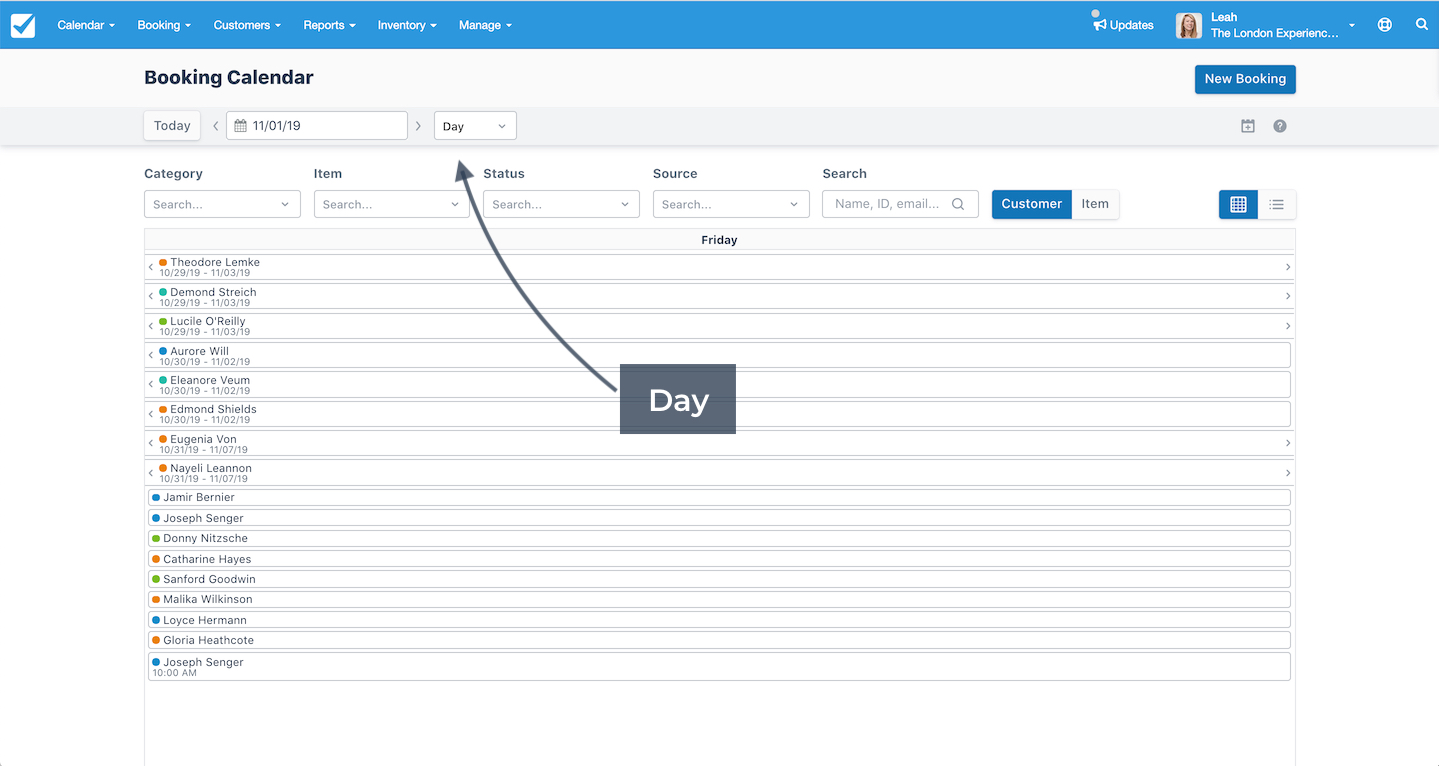 Viewing bookings by the Day.
| | |
| --- | --- |
| | Learn more about toggling between the calendar and list formats here: |
---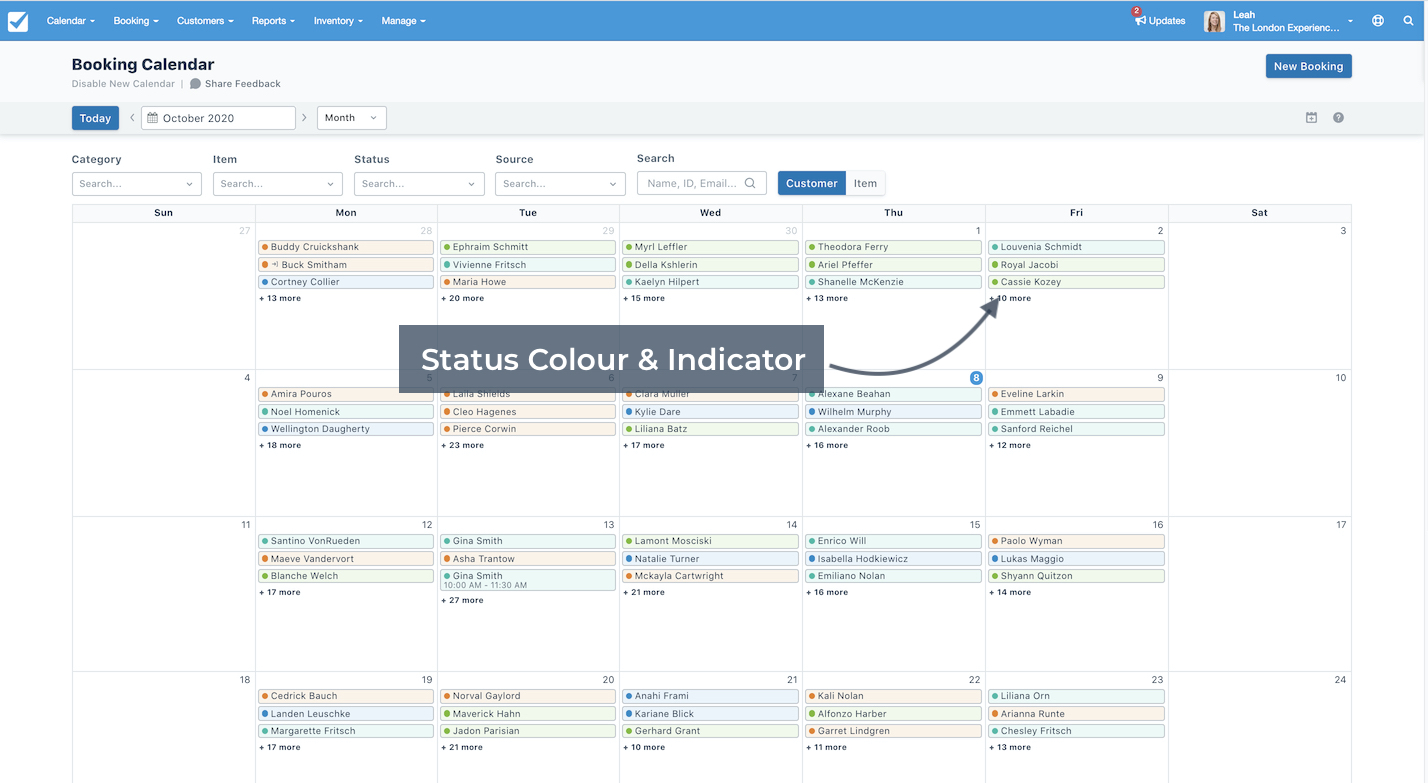 Each booking displayed is color-coded to match the status of the booking and includes a status indicator - the dot next to the Customer or item name. The colours displayed correspond to the colours of the Booking Statues configured within your Checkfront account.


| | |
| --- | --- |
| | Learn more here about Booking Statuses here: |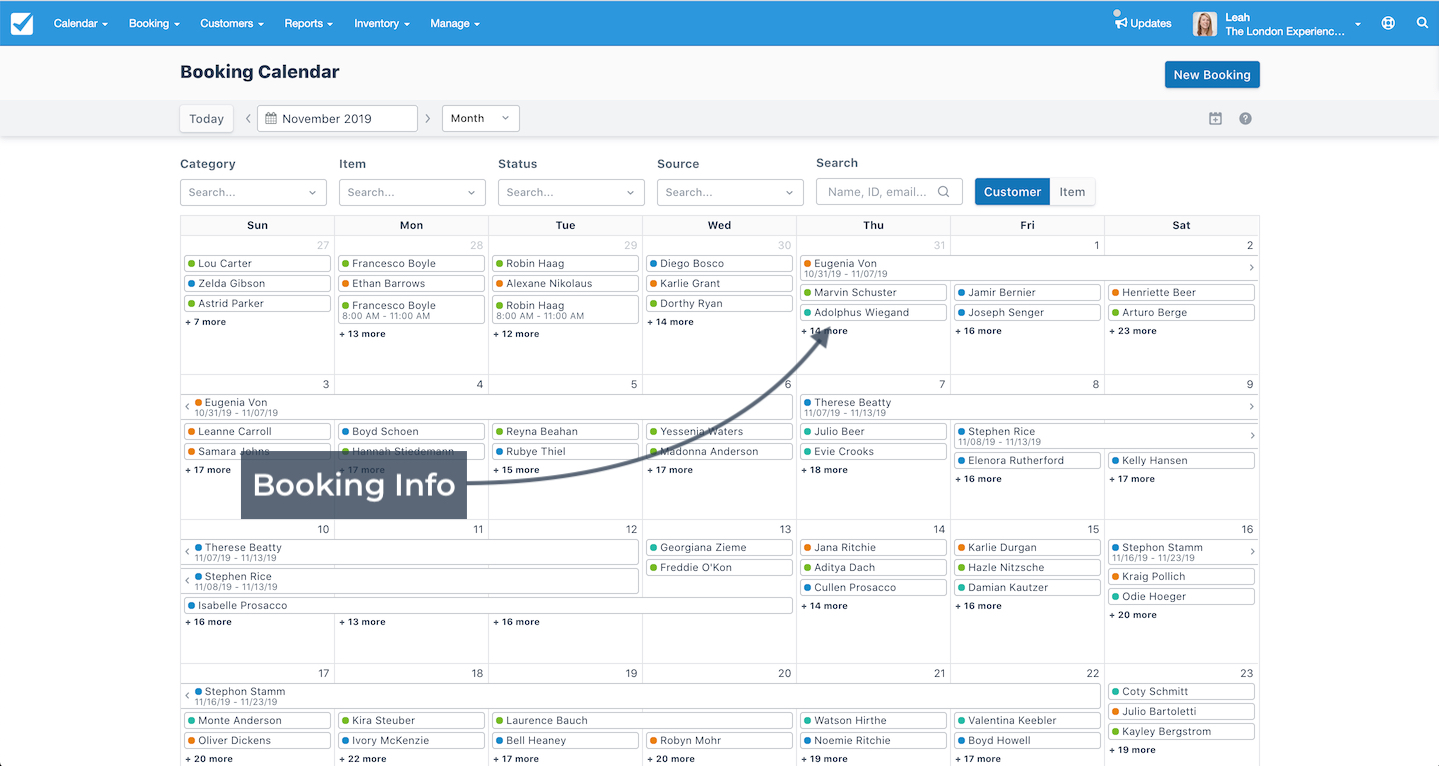 Depending on you are viewing bookings by Customer or Item you will see the Booker's First and Last Name or the name of the Item booked.
| | |
| --- | --- |
| | Learn more about the option to bookings display by Customer name or Item here: |
To access more detailed information about each booking, simply click on the booking to open the side-panel.
| | |
| --- | --- |
| | Learn more about the new side-panel here: |
---
< New Booking Calendar Experience | Booking Calendar: Navigation & Filters
---