---
Plan Availability: ✓ Soho | ✓ Pro | ✓ Plus | ✓ Enterprise | ✓ Flex |
Locate: Inventory > Assets > Assets tab
Prerequisites:
Admin

permissions to manage inventory or

restricted permissions

to

View products and assets and Manage products and assets.
Your account must have access to products (Inventory > Products), which is a key feature of our newest version of Checkfront.
New to Checkfront - Products ✨

Products (Inventory > Products) is the successor feature to (Inventory > Items) and is available in our newest version of Checkfront.

Not yet on our newest version and interested in upgrading? Please contact our Technical Support team for more information.

Discover more product-related help articles here: Products (New).
This article is a brief introduction to inventory asset pools, assets, and the Asset Builder.
Please read the full series of articles, accessed at the side and bottom of this page, to learn more about the Asset Builder and the features within.
---
Assets are key business resources that your activity relies on to supply experiences to your Guests, such as equipment, vehicles, or rooms. The distribution of these resources ultimately determines the availability of the product you are offering.
Asset pools allow you to classify your assets, specifying the category, quantity, and capacity of those assets in the process.
The following table illustrates how assets are organized and counted.
| | | | | | | |
| --- | --- | --- | --- | --- | --- | --- |
| Asset SKU | Asset Pool | Asset Category | Quantity | Capacity | Asset Booking | Pricing |
| Mount _Bike_1 | Mountain Bikes | Bikes | 1 | 1 | Private | Per asset |
| Single_Kayak_1 | Single Kayaks | Kayaks | 1 | 1 | Private | Per asset |
| Bus_1 | Shuttle Buses | Buses | 1 | 10 | Shared | Per seat |
| KayakPaddle200_1 | Kayak Paddles - 200cm | Kayak Paddles | 1 | 1 | Private | Per asset |
| LifeJacketSmall_1 | Life Jackets - Small | Life Jackets | 1 | 1 | Private | Per asset |
To understand how inventory information is organized throughout the system, it is best to start by creating one product (based on assets if needed). You can then preview that product, or better yet, run a test booking through the system.

Once booked, you can check out how that booking displays within booking tools (e.g. Daily Manifest), reports (e.g. Booking Index), and the Booking Invoice and then adjust how your products (and assets) are configured to suit your needs.

Primary versus secondary assets
If your product is based on assets, then it is helpful to consider which assets are primary and which are secondary to booking before creating your assets.

For example, you can create an asset category for kayaks and separate asset categories for kayak paddles and life jackets, so that this distinction is apparent and communicated throughout the system.
Assets are not required for products to be bookable, but they are available as an option, to suit your business needs!

Learn more about configuring your products with associated assets here...
---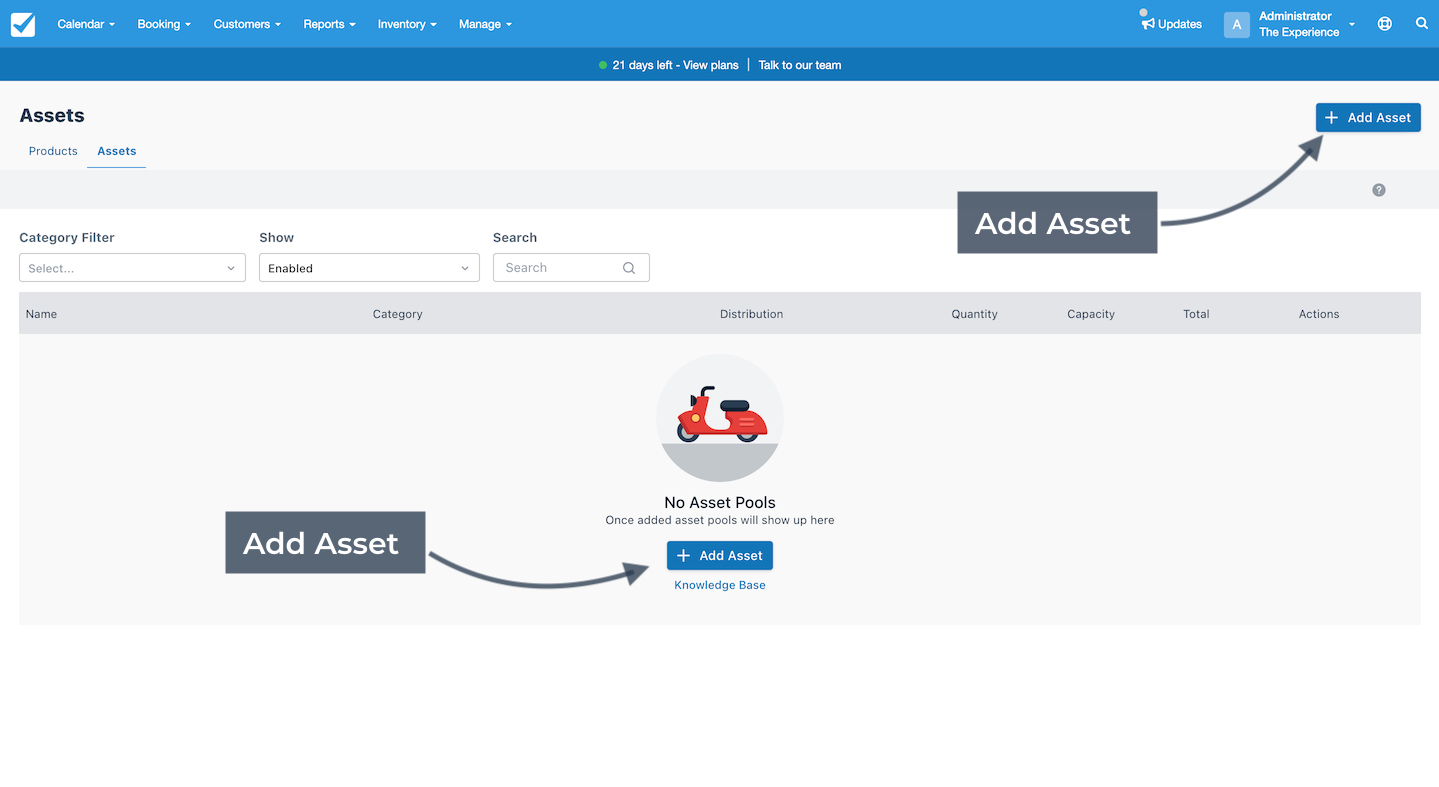 While you may create your first asset in the process of building your first product, you can also add an asset pool with assets from the Assets page. Simply click on either option to + Add Asset and this opens the Create Assets modal.
| | |
| --- | --- |
| | Learn more about adding a new asset via the Create Assets modal here... |
---
Adding asset pools and assets >
---