---
Learn how to install a free add-on called Random Generator to generate random vouchers within Google Sheets.
New to discount and voucher codes? Read the first article in this series for an introduction to discounts.
---
Which plans include this feature?
Legacy:  Soho, Pro, Plus, Enterprise, Flex
New:  Starter, Growth, Managed  |  Learn more about our new plans or how to change your plan.

Where can I find this feature using the top menu?
Inventory > Discounts


What prerequisites are there?
Which Checkfront version supports this feature - classic, new, or both?
Discount and voucher codes are available to both those using items (Inventory > Items), a key feature of our classic version of Checkfront, and those using products (Inventory > Products), a key feature of our newest version of Checkfront. NOTE: Some features are not yet available with products including the Active Discounts report, discount rules, open discounts, edit columns, and the option to export your list of discounts.
New to Checkfront - Products ✨

With our newest version of Checkfront, we have added Products (Inventory > Products) as the successor to items (Inventory > Items).

Are you interested in migrating to our newest version? Please reach out to our Technical Support team for more information.
---
If you're familiar with Google Sheets, you can use a free add-on called Random Generator to create a list of random voucher codes for use with Checkfront.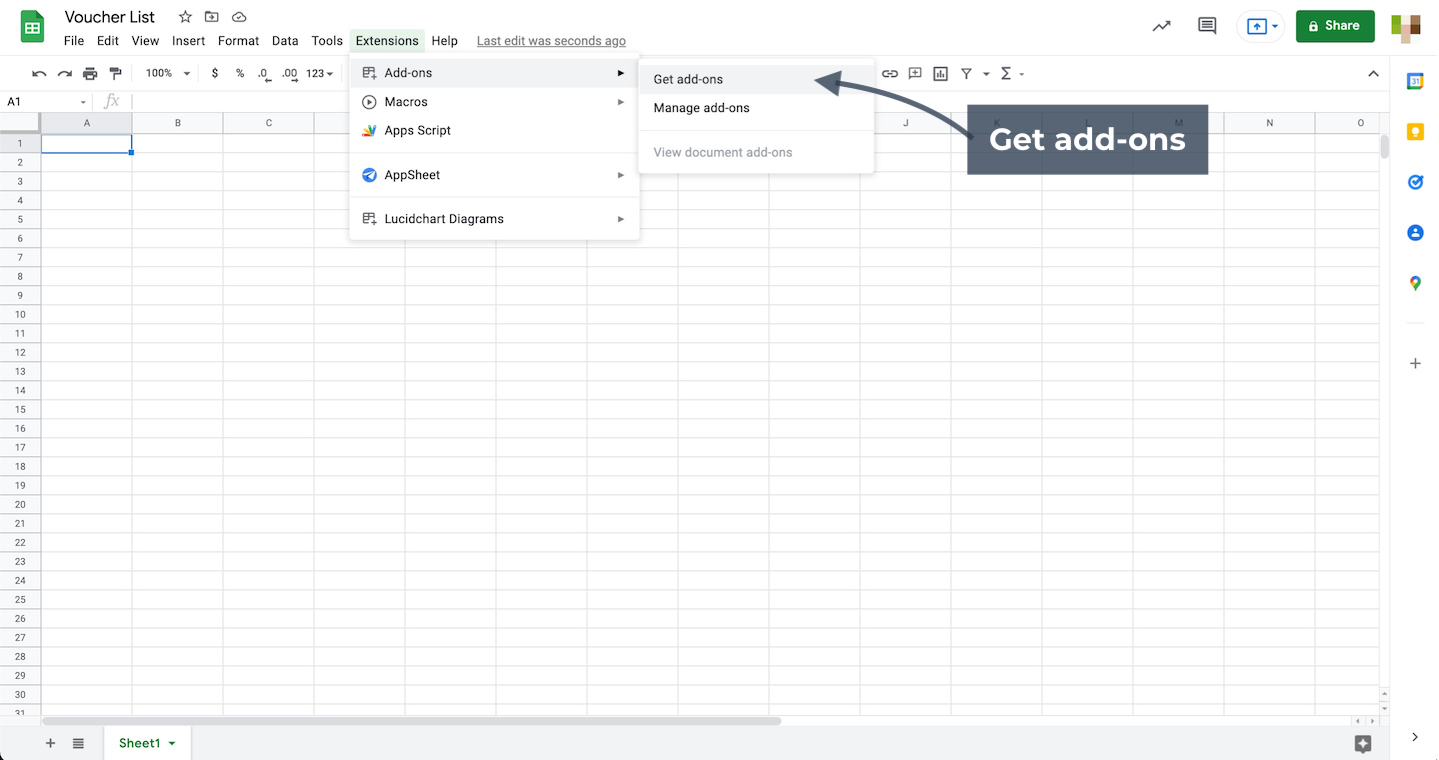 Create a new sheet and click on the Extensions menu at the top. Select Add-ons and then choose Get add-ons.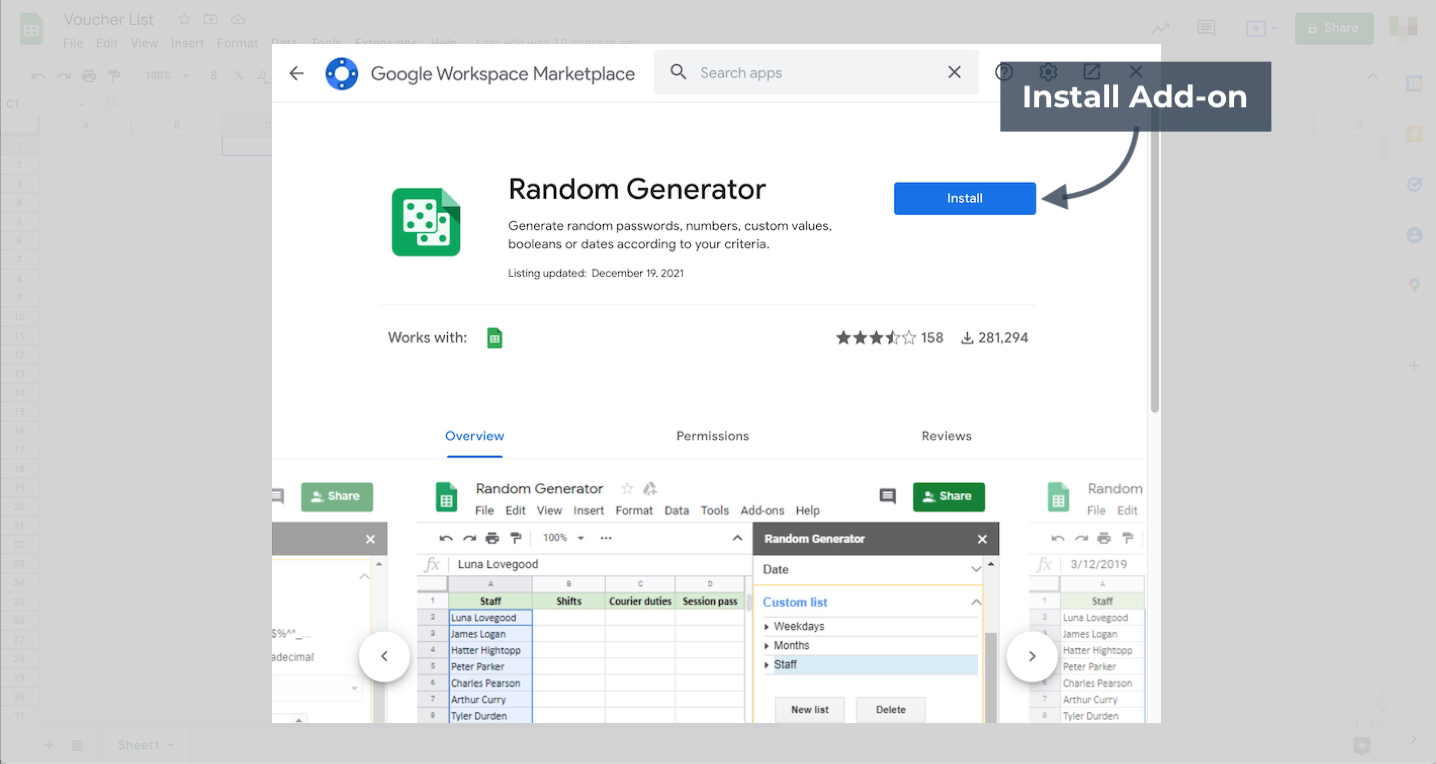 Use the search box to find the Random Generator app and install it.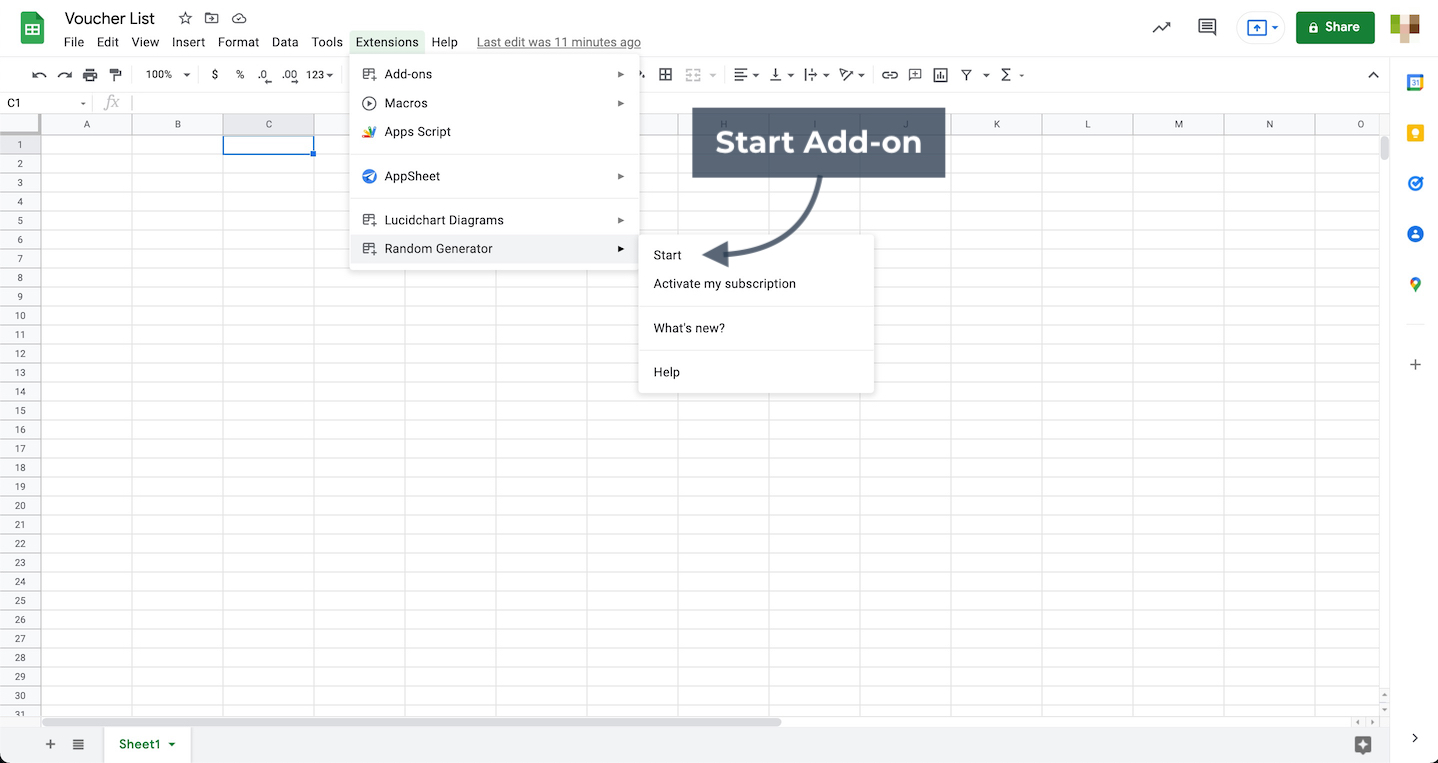 Returning to the Extensions menu, you can now launch the Random Generator app.
---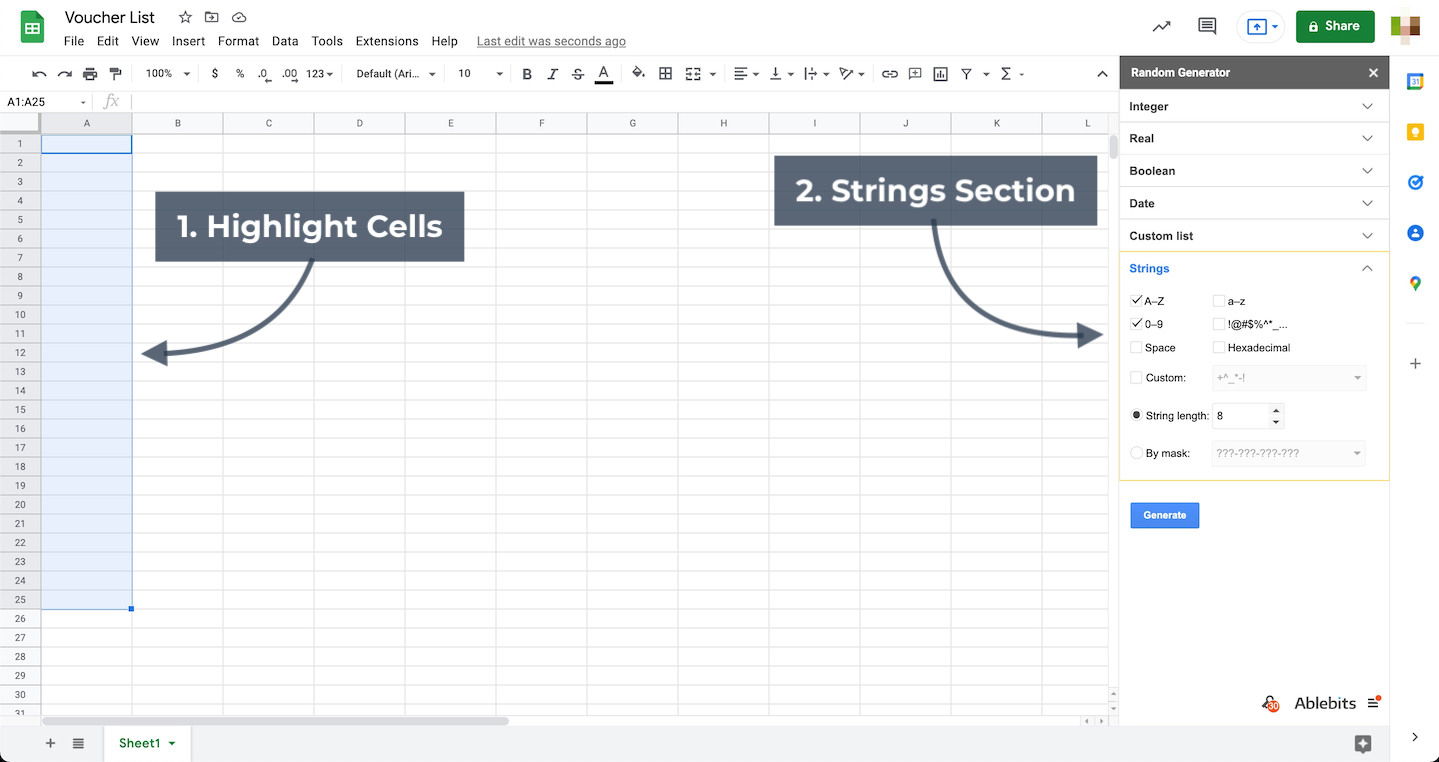 After launching, select the required number of cells in column A (1). Each cell represents one random voucher code.
From the Random Generator menu, select Strings (2), check the capital letters and number strings, and set a string length of 8.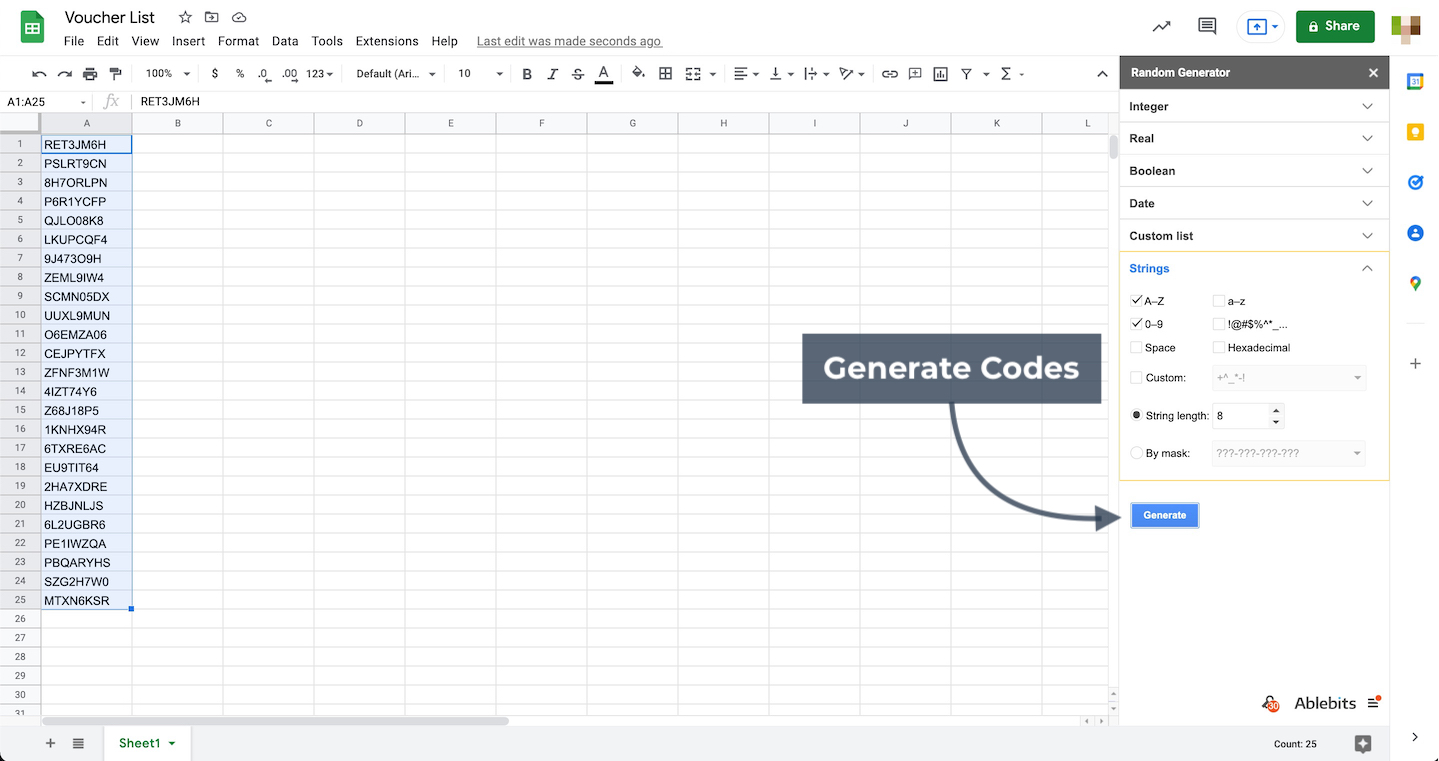 When ready, click the blue Generate button at the bottom. You now see your voucher codes on the sheet.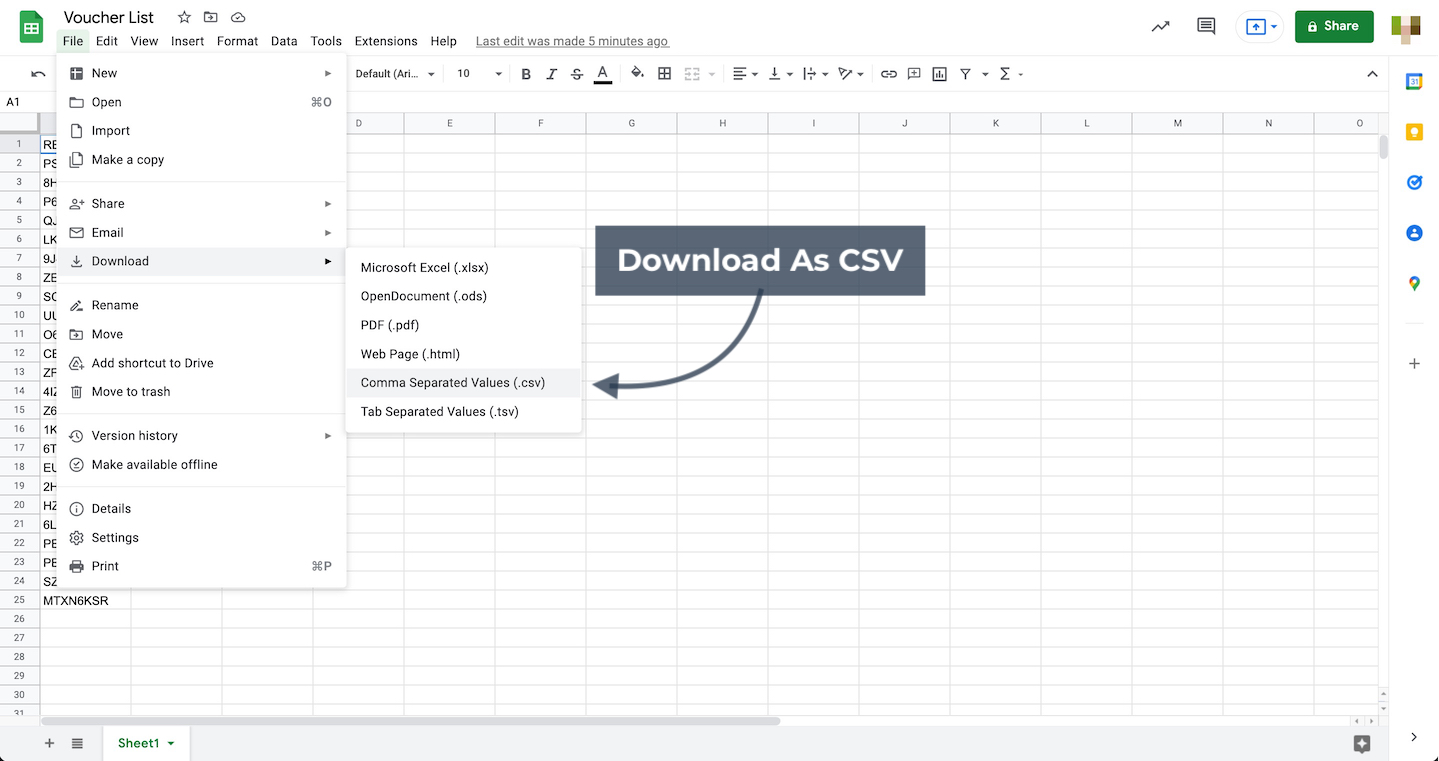 From there, you only need to download the sheet from the File menu and upload it to Checkfront.
---
< Uploading voucher codes for use within Checkfront    |     Using Groupon vouchers with Checkfront >
---