Learn how to access more information about each interval within the inventory calendar, including the option to edit inventory, work with bookings, and view adjustment activity logs.
Are you new to our refreshed version of the Inventory Calendar? Start by reading the first article in this series, Introduction to the Inventory Calendar.
---
Which plans include this feature?
Legacy:  Soho, Pro, Plus, Enterprise, Flex
New:  Starter, Growth, Managed  |  Learn more about our new plans or how to change your plan.

Where can I find this feature using the top menu?
Calendar > Item/Product > Inventory Calendar > Click on any cell to access the side panel > Inventory tab


What more do I need to use this feature?
Admin or restricted permissions to View calendars, Change Daily Inventory Availability
Inventory (items/products) configured within Checkfront.


Which Checkfront version supports this feature - classic, new or both?
This feature is available in both our classic version using items (Inventory > Items) and our newest version using products (Inventory > Products).  → Learn more about products
Classic ---> Newest version (2022)

This inventory calendar replaces the classic versions of the calendar.

Please reach out to Customer Support with any questions or concerns.
How do I know which version of the Inventory Calendar is enabled for my account?

Only a select few historical accounts still have the classic inventory calendar enabled.
A banner at the top of your calendar invites you to check out the newest version if you are on the classic version.
If you are on the newest version, your calendar looks like the screenshots in this series of articles.
---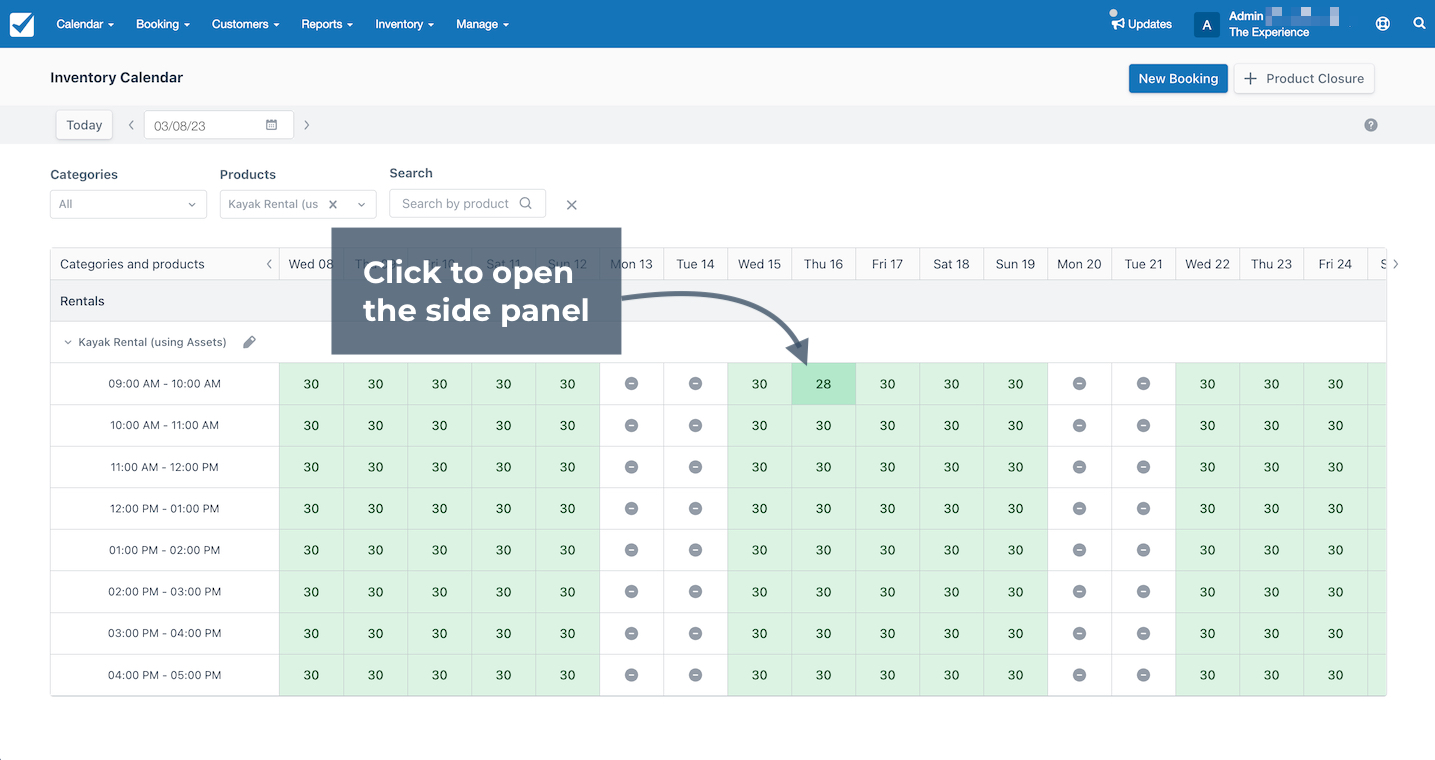 To access more options and information for each interval within your calendar, start by clicking any cell with booked or available inventory.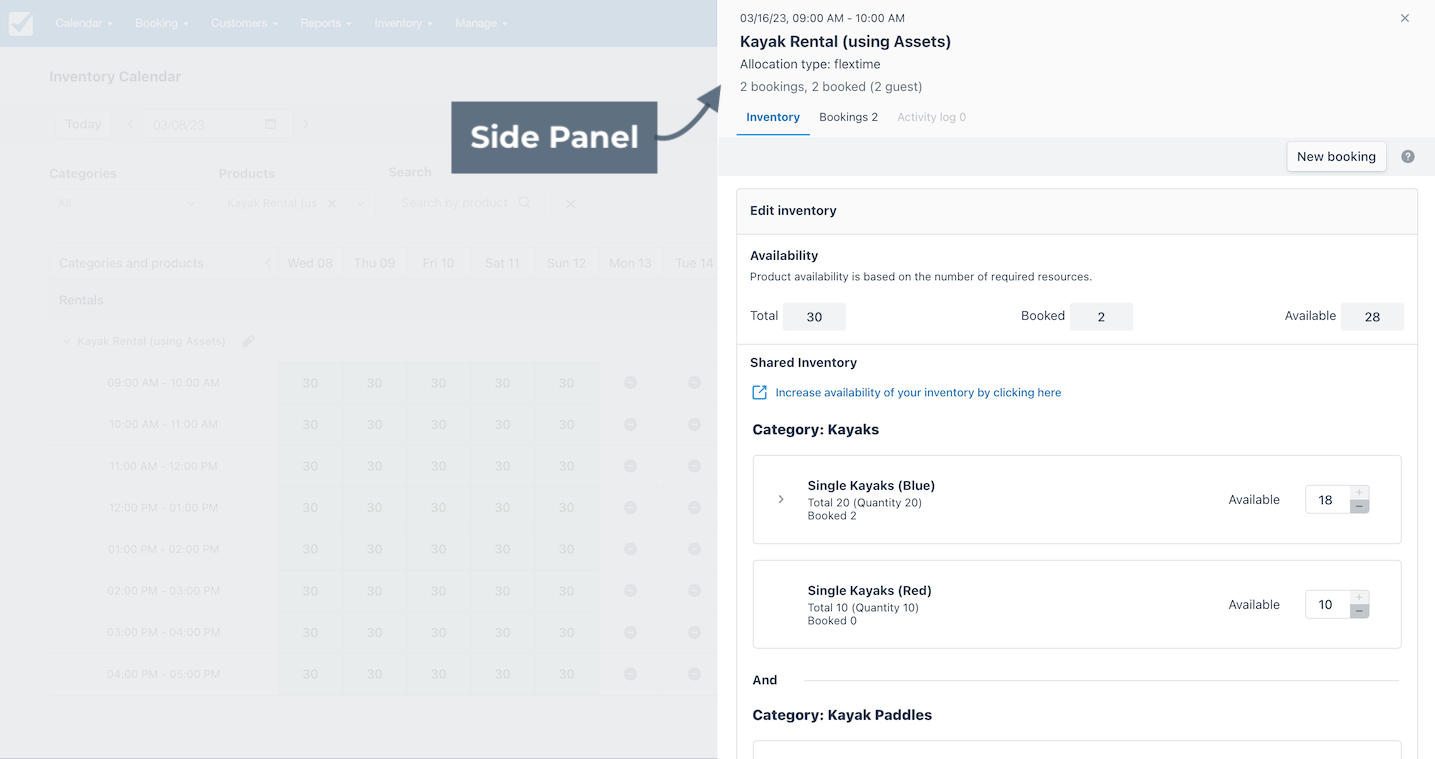 This opens a side panel. The following information and options are displayed at the top of the side panel to help you understand which inventory is in focus.
Features
 
 

Date in focus

This is the date/time interval in focus. This is the day you opened from the Inventory Calendar, for example, 07/31/22.

Item/Product Name

This is the name of the item/product in focus—for example, Walking Tour with a Taste of London.

Allocation Type

This is the allocation type for the item/product in focus - per day/all day, per night/nightly, per time/flex time, or per timeslot.

 

Number of bookings and number booked (#number of Guests)

This is the number of bookings vs. the number booked (people, spots, inventory) for the period in focus. The number of Guests is listed in brackets.

New Booking


You can create a booking anytime from the side panel by clicking the New Booking button.
---
Learning more about the inventory side panel
Back to top
The side panel contains three tabs - Inventory, Bookings, and Activity Log. The following help articles are available to guide you through each tab.
Select the inventory article that matches the inventory configuration within your account, depending on if you are using items, simple products, or products based on assets.
| | |
| --- | --- |
| Tab | Learn More |
| Inventory (with Items) | |
| Inventory (with Products) | |
| Bookings | |
| Activity | |
---
< Navigating and filtering the Inventory Calendar  | Editing item availability from the inventory calendar >
---